JeffPo's Boston & Maine tall lantern Page
Last update: 10/29/09
---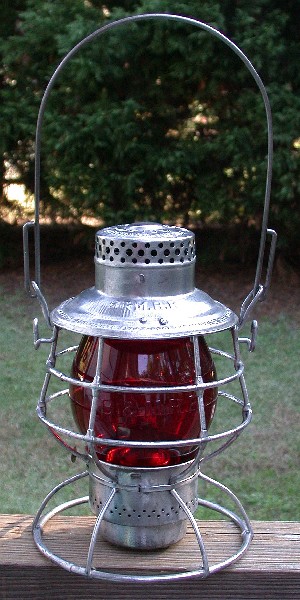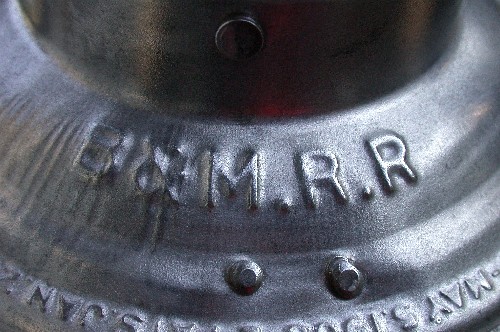 This is an Adlake Reliable lantern for the Boston & Maine Railroad. The lid is embossed with B&M RR.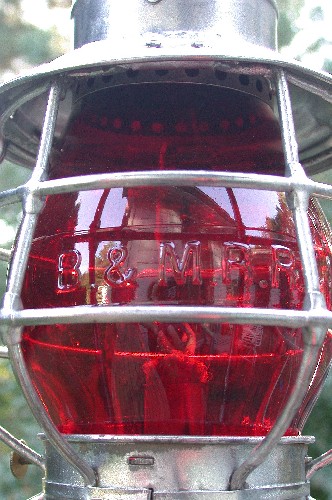 It has a red globe. That means this lantern used for a stop signal. The globe was cast with B&M RR.
---
Boston & Maine Railroad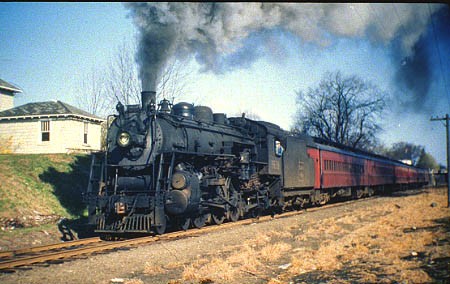 Engine #3639, East Lexington, MA, April 1953. Photo by George M. Dimond.
The Boston & Maine Railroad (B & M) was chartered in New Hampshire in 1835. In 1842 it merged with the Maine, New Hampshire and Massachusetts Railroad (chartered 1839) to form a new Boston & Maine Railroad. Cities of operation included Portland, Havervill, Andover, and Wilmington (MA). The B&M operated over a large section of the north east. At one point it owned a majority of stock in the Maine Central Railroad. It came under control of JP Morgan and the New Haven railroad around 1910, but anti-trust policies forced a reorganization in 1919. In the 1930s the freight business was in decline because of less New England manufacturing growth. With automobiles becoming popular, the B&M cut its passenger services in the late 1950s and mid 1960s. It only continued as a Boston commuter service by aid of subsidies from the Massachusetts Bay Transportation Authority (which bought the rolling stock and tracks in 1973). The B&M filed for bankruptcy in 1970. It opted out of merging with Conrail. Guilford Transportation Industries bought the B&M in 1983. While technically the Boston & Maine Corporation still exists today it's only as a non-operating ward of Pan Am Railways.
---