JeffPo's Boston & Maine Vesta lantern Page
Last update: 10/29/09
---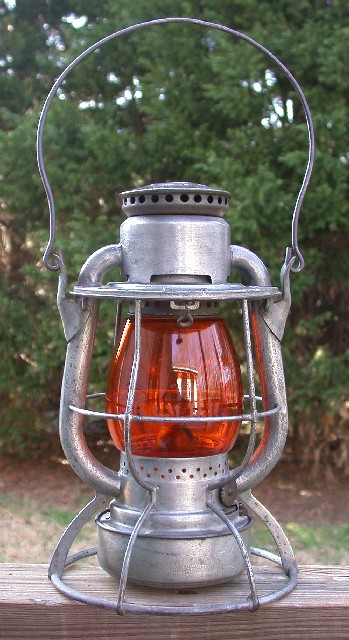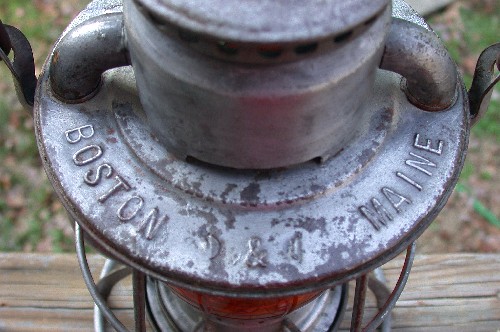 This is a Vesta lantern for the Boston & Maine Railroad. The lid is embossed with Boston & Maine. This is an older Vesta lantern which is a little taller and more robust than the later versions. Notice that the fuel fount is smooth.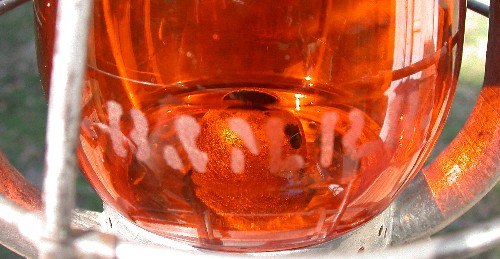 The lantern has an amber/orange globe (officially yellow) that is etched with B&M RR.
The amber/orange globe means it could have been used to mark camp cars (for workers staying overnight), or for notifying the train engineer that there were Form 19 orders to pick up. Form 19 orders are "hooped" (affixed to a stick with a hoop on it that the engineer could put his arm through to grab it) up to the engineer and conductor once the train is underway. People tending the railroad track switches also used amber globed lanterns for signaling.
---
Boston & Maine Railroad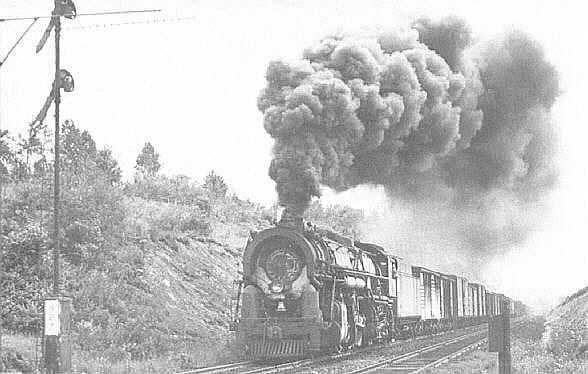 Boston & Maine #4289 2-8-4 northbound freight north of Charlestown NH , 1935. Image from Edsen Breyer's Postcard Museum
http://www.ebpm.com
The Boston & Maine Railroad (B & M) was chartered in New Hampshire in 1835. In 1842 it merged with the Maine, New Hampshire and Massachusetts Railroad (chartered 1839) to form a new Boston & Maine Railroad. Cities of operation included Portland, Havervill, Andover, and Wilmington (MA). The B&M operated over a large section of the north east. At one point it owned a majority of stock in the Maine Central Railroad. It came under control of JP Morgan and the New Haven railroad around 1910, but anti-trust policies forced a reorganization in 1919. In the 1930s the freight business was in decline because of less New England manufacturing growth. With automobiles becoming popular, the B&M cut its passenger services in the late 1950s and mid 1960s. It only continued as a Boston commuter service by aid of subsidies from the Massachusetts Bay Transportation Authority (which bought the rolling stock and tracks in 1973). The B&M filed for bankruptcy in 1970. It opted out of merging with Conrail. Guilford Transportation Industries bought the B&M in 1983. While technically the Boston & Maine Corporation still exists today it's only as a non-operating ward of Pan Am Railways.
---