JeffPo's Adlake Reflex Switch Franken-Lamp Page
Last update: 11/21/09
---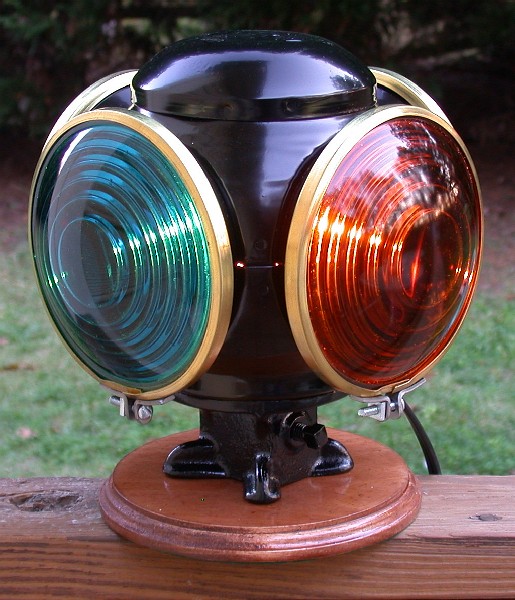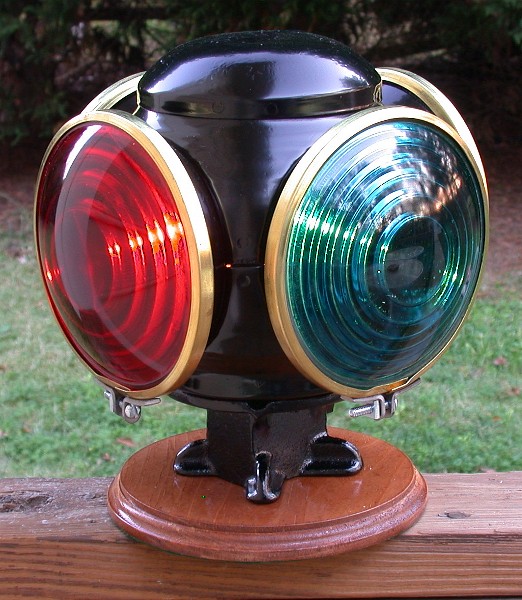 What's a Franken-Lamp you ask? Well, given Frankenstein was made out of various parts of other people, my lamp made out of various other parts will be known as Franken-Lamp. It was originally a reflex switch lamp made by the Adlake company (i.e. Adams & Westlake). Reflex lamps had no internal illumination, but rather used reflecting lenses. See my webpage on a complete reflex lamp for more information. Instead of letting the parts just sit in a box in my attic, I decided to build this Franken-Lamp. It makes a great conversation piece and can even serve as a nightlight.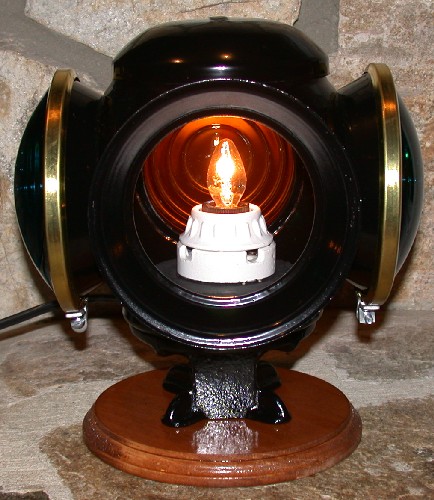 This particular lamp was constructed from an Adlake reflex lamp shell that I somehow ended up with. I've added regular switch lamp lenses that require internal illumination to work. It has three colors represented, signal green, red, and amber. I've installed an electrical socket inside that takes a C7 Christmas style light bulb. This is more than enough to really make it shine. The light socket and the wiring was done without physically altering the lamp. You see a lot of lanterns and lamps that have been electrified by drilling holes for the light sockets and wiring. I'm very much against this type of alteration and think it ruins the lantern/lamp. The coupling rings are brass to dress it up a bit. I got these from the Krise Depot. I've also mounted it to a wooden platform that I purchased from a craft store and stained. I've glued some felt on the bottom so that I could use the lamp as a display on about any surface.
The purpose of the switch lamp was to let the train engineer know which way a particular railroad switch was set. It could be set to be straight ahead, along the railroad line that was being traveled, or it could be set to a railroad siding line.

A green signal indicated the railroad switch was set to straight ahead. While the lens appears as an aqua blue in natural light, the yellow tint of the light bulb makes it shine with a green hue.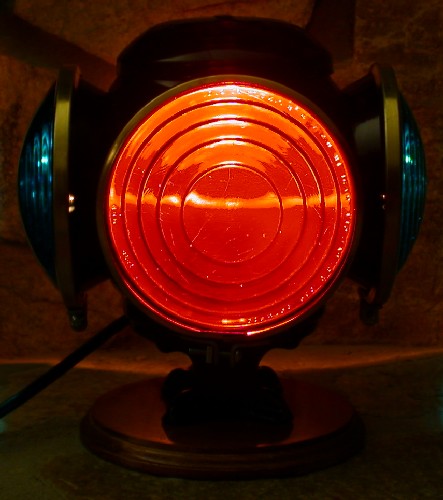 A red signal indicated that the railroad switch was set to the turn off onto the siding.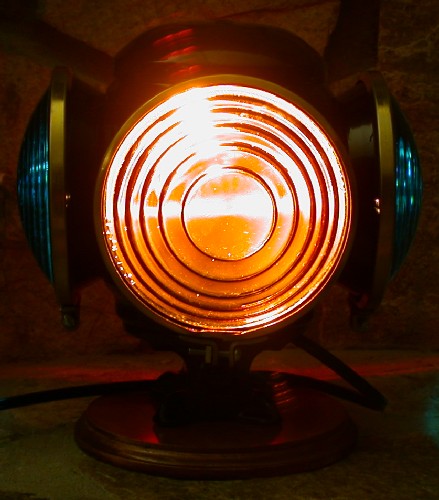 An amber signal indicated the same as a red signal, that the railroad switch was set to turn off onto the siding. Some railroad companies would use amber lenses for lamps within the rail yard, and red lenses for lamps that were positioned along the main line. Amber lenses were also used in derail lamps to indicate that the derail device was not set (i.e. railcars can safely pass through that section of track).
---