JeffPo's Louisville & Nashville Lantern Page
Last update: 11/05/08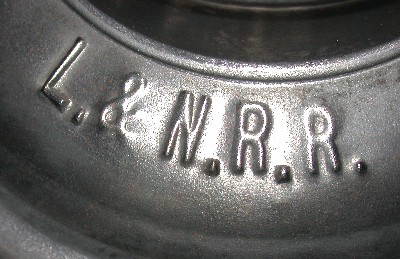 This is an Arsmpear lantern from the Louisville & Nashville Railroad. The lid is stamped with L&NRR.

The tall red globe is cast with L&NRR. The red globe means that it was used as a stop signal.
---
Louisville & Nashville Railroad

The Louisville and Nashville Railroad (L&N) operated freight and passenger services in the southeast United States . The L&N was chartered by the state of Kentucky in 1850. Unlike most other railroads, it operated under the same name for many years (132). It eventually had a network of nearly 7000 miles. By 1859, the railroad line stretched from Louisville , Kentucky to Nashville , Tennessee . During the Civil War, both Confederate and Union armies operated different parts of the L&N at various times. By 1884 the railroad was so important that it was included in the Dow Jones, the first American stock market index. In the first half of the 20th century, the railroad's access to high-grade coal eventually enabled it to claim the nation's longest non-stop run, nearly 500 miles. Although the Atlantic Coast Line Railroad (ACL) gained control of the L&N in 1902, it didnít make any changes in the control of operations.

Before anti-trust laws, the L&N would flex its corporate and financial muscle to stifle competitors, or garner a controlling interest in their companies. The L&N was used heavily during the World Wars to haul war supplies where needed. Through the 1950s and 1960s the

Louisville and Nashville continued to grow through mergers and acquisitions. The Seaboard Coast Line Railroad (SCL, the successor to the ACL) took full control of the L&N in 1971 and it because a subsidiary. Amtrak took over any remaining passenger service. In 1982 the Seaboard System Railroad (successor to SCL) absorbed the L&N entirely and withdrew its name from the market. The former L&N lines are now operated by the CSX Transportation (previously the Seaboard System Railroad).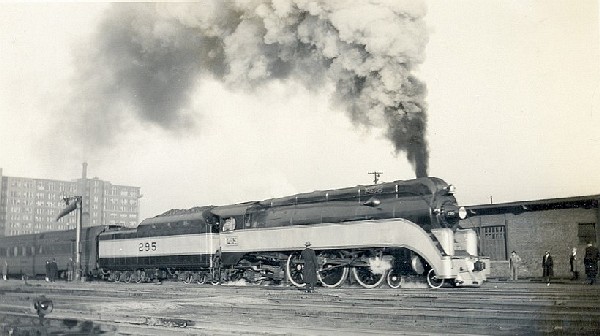 No. 295 Class K-7 Pacific
"South Wind". Union Station. Louisville Depot. Louisville , KY. Circa 1947: Wiley H. Sullivan Collection
This engine was upgraded and streamlined to be used for 490 mile run from Louisville, KY to Montgomery, AL, non-stop without taking on fuel or water. Special high grade coal from Eastern Kentucky was shipped to Montgomery to be used exclusively for No. 295. On many occasions No. 295 arrived in Louisville with an empty tender, low steam pressure, and barely enough coal to make it to the South Louisville Roundhouse.
---