JeffPo's Maine Central Lantern Page
Last update: 10/29/09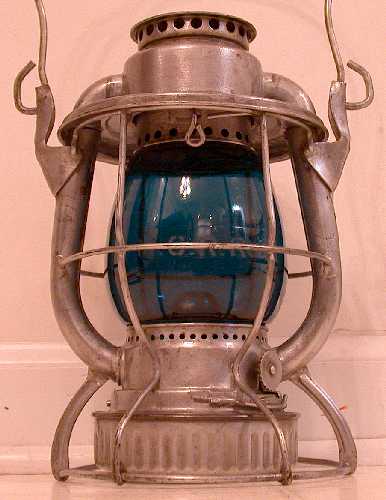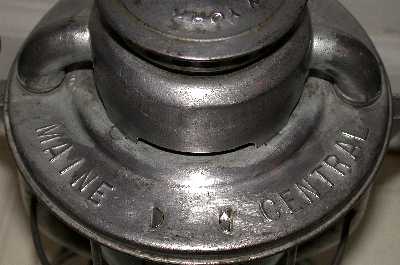 This Dietz Vesta lantern was used by the Maine Central Railroad. The frame of the lantern is stamped with MAINE CENTRAL. The aqua blue globe is etched with M.C.R.R.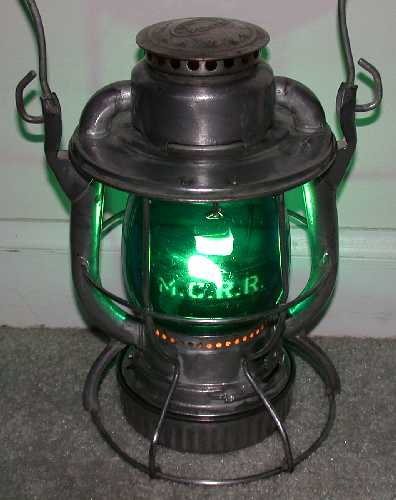 The "blue" globe actually glows a signal green when lit. The yellow flame and the aqua blue globe color make the color green, just as if you were mixing paint.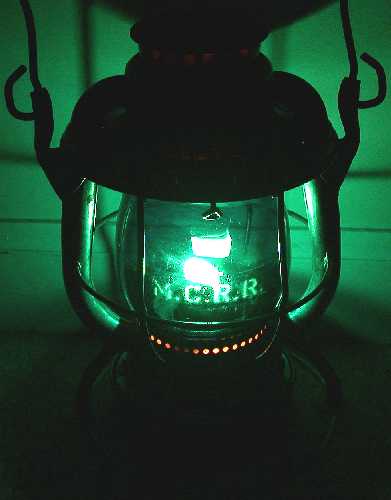 The signal green globe means it was used as a "proceed with caution" tower signal, or by those tending the switches, or by a wreck master.
---
Maine Central Railroad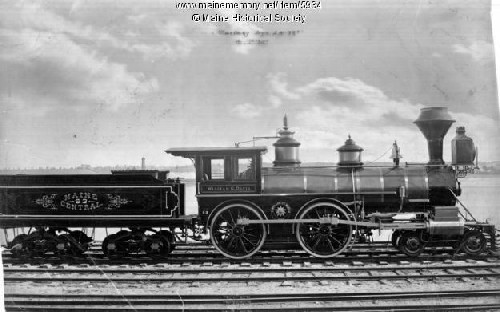 Maine Central engine #323, delivered in April of 1877.
The Maine Central Railroad was chartered in 1856. It consolidated the Androscoggin & Kennebec and Penobscot & Kennebec railroads and began operating in 1862. The Maine Central grew rapidly in the late 1800s. By 1884, it operated a 524 mile system and was the largest railroad in New England. It was at its greatest during the World War I time frame. The railroad owned two resorts, a trucking and bus subsidiary, steamboats, and even coastal ferries. After the war, the growth of Maine Central slowed rapidly. It entered a period of joint management with the Boston and Maine Railroad in 1933. In 1980, the Maine Central Railroad was bought by US Filter Corporation, and sold again to Guilford Transportation Industries in 1981. Labor disputes and cost cuts took a toll on the Maine Central during the middle and late 1980s. Operations today are steady and predictable. Some of the rail lines that were abandoned are in use by short line railroads in the area. There is some promise that some of the former Maine Central routes may be restored.
---