JeffPo's Pullman Palace Car Company Lantern Page
Last update: 11/07/12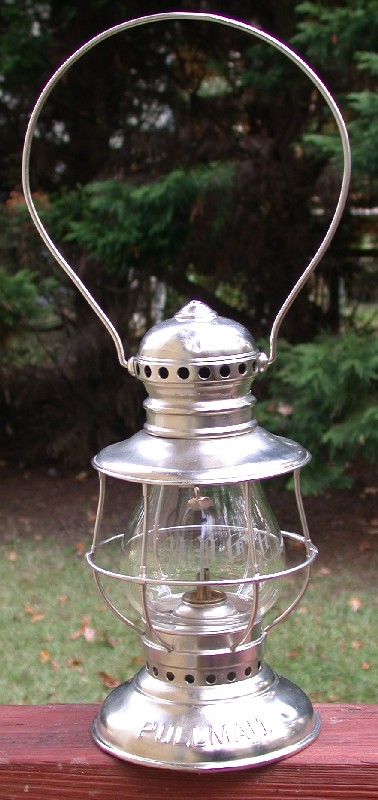 This is a nickel plated conductor lantern made by the Adams & Westlake Company (later known as Adlake) for the Pullman Palace Car Company. Conductor lanterns, sometimes called presentation lanterns, were used by conductors on passenger trains. Back in the late 1800s and the first part of the 1900s, travel by train was a luxurious experience. Passengers were pampered and the décor was sometimes extravagant. The conductor lantern was a more ornate type of lantern that showed the status of not only the conductor, but also of the passengers he served. These type lanterns date from the last quarter or so of the 1800s, to the first decade or so of the 1900s.
The bell bottom of the lantern is embossed with PULLMAN. The lantern still retains a lot of its nickel plating, though it is cracking in places. Some conductor lanterns were brass plated for a golden look.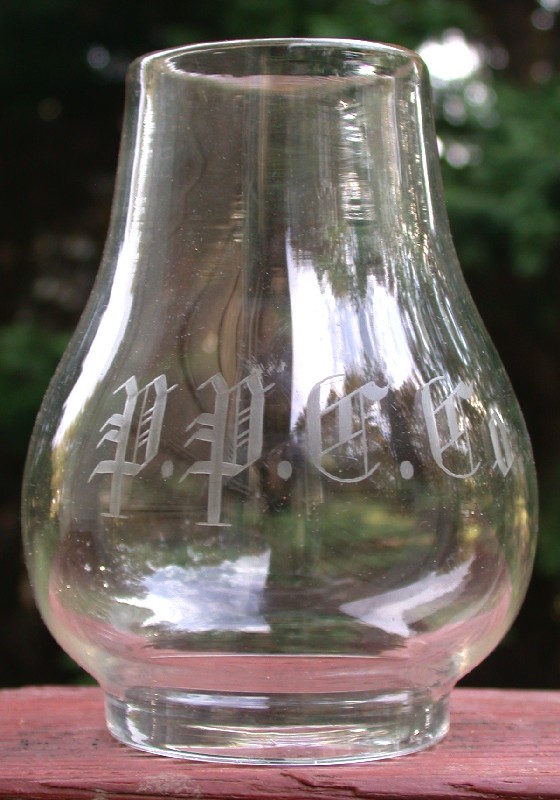 The lantern has a clear globe that is etched with P.P.C.Co., which stands for Pullman Palace Car Company. Some conductor lanterns came with a dual color globe, with green on top and clear on the bottom. The green portion would cut the glare that might shine in a passenger's eyes as the conductor checks a ticket, or lights a step or path. This lantern also has an older burner that does not possess a wheel for adjusting the wick. The conductor would use a safety pin or other sharp, pointed object to gently adjust the wick through slots in the burner.
---
Pullman Palace Car Company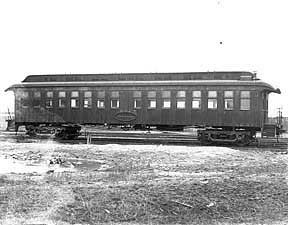 The Pullman Palace Car Company was founded by George Pullman in 1862. They built and operated the cars, supplying the conductors and porters. Pullman paid the railroads to attach the cars to the various trains. George Pullman came up with the idea for his Place Car after spending a night sleeping in his seat on a train trip.
The cars featured carpeting, draperies, and upholstered chairs. They even had libraries and card tables and offered the up-most level of customer service. The workers for Pullman initially lived in a planned, company town, also named Pullman. The company phrase for their cars was "Travel and Sleep in Safety and Comfort."
President Lincoln's son, Robert Todd Lincoln, became president of the company in 1897 after George Pullman died. Pullman peaked in mid-1920s, employing some twenty-eight thousand conductors and twelve thousand porters. By 1925, the car fleet was up to 9800 cars. From 1931 until late 1952, Pullman also made trolley buses in addition to its rail cars. During the 1940s, the Justice Department brought an anti-trust suite against Pullman, eventually resulting in part of the company being sold off. Pullman continued to make cars into the 1970s, finally being sold to the Bombardier company in 1987.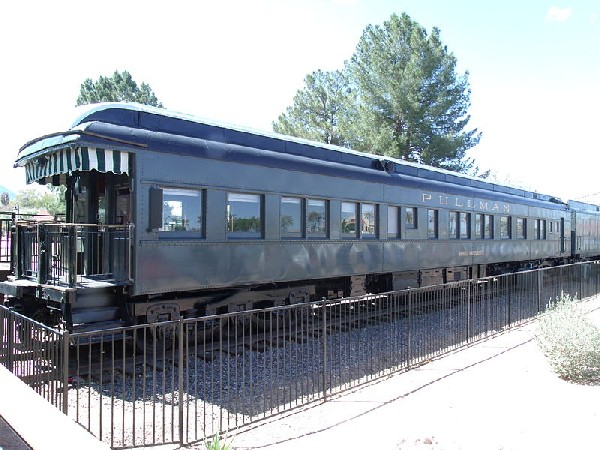 Built in 1928, the Amundsen car, has reportedly carried Presidents Hoover, Roosevelt, Truman and Eisenhower
---