JeffPo's Boating Page
Last update: 07/24/09
I've never been too much of a boating enthusiast. My parents and family have owned small boats at times. I did enjoy water skiing and fishing. I have also enjoyed sailing from time to time. I even sailed to New York City during my Navy days. But, I've never had a major desire to get a boat.
But then, one of my friends got a pontoon boat. After accompanying him and his family to the lake a couple of times, I got the "fever". To make matters worst, my wife Lynn IS a boating enthusiast. Her family has always had a boat and her father use to perform in trick ski competitions.
After looking around a bit, comparing prices, and trying to figure out what we could handle (and what the car could pull), we found a great ski boat. It's a 1995 Bayliner 1750LS. It is about 17 feet long, and has a 135hp Mercruiser inboard/outboard engine. The boat is big enough for us to have fun, yet small enough for me to easily launch and recover by myself. We go to a local lake just down the road that is great for fishing and not too crowded.
You'll find some pictures from our boating time below.
---
Jordan Lake, NC - July 10-12, 2009
We did a camping/boating trip to Jordan Lake. Given I don't have a camping webpage, and this trip revolved around the lake and boat, I'm putting the images out here. Victoria was spending the weekend with a friend, so Jonathan brought a buddy of his along. Had a pretty good time. Lots of swimming, boating, and roasting marshmallows. Saw a few bald eagles too.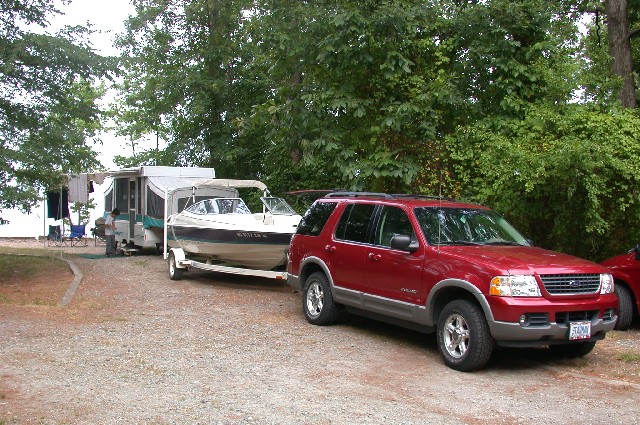 Truck, boat, and camper. I've put a hitch on the van now, so we can haul with two vehicles.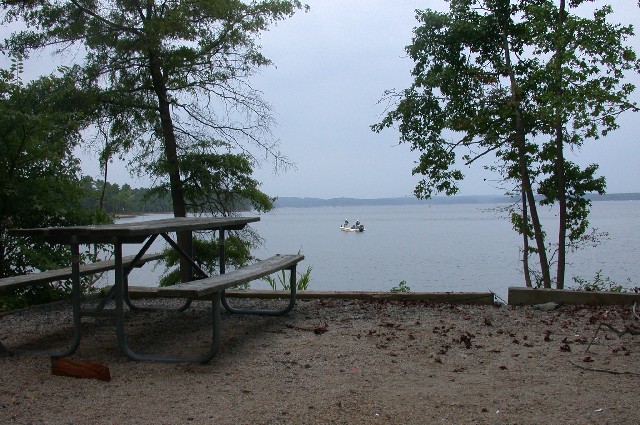 Here's the view from our campsite. Very nice and relaxing.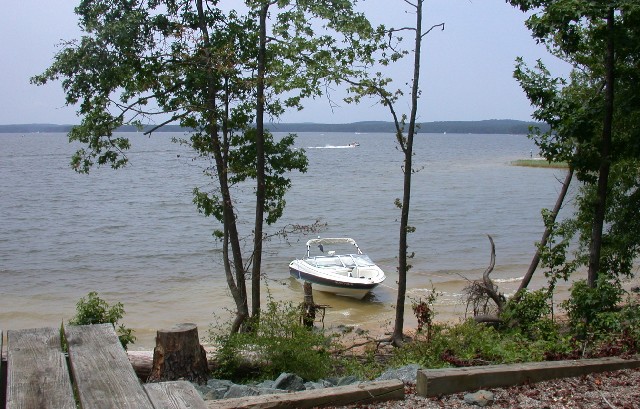 We could beach the boat right at the campsite.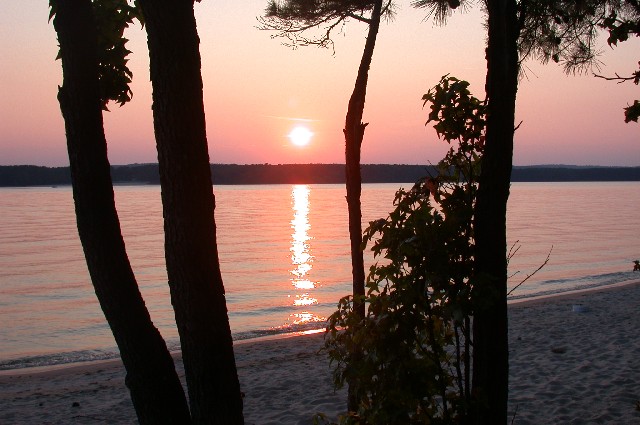 This is what it's all about. A beautiful sunset, a relaxing time.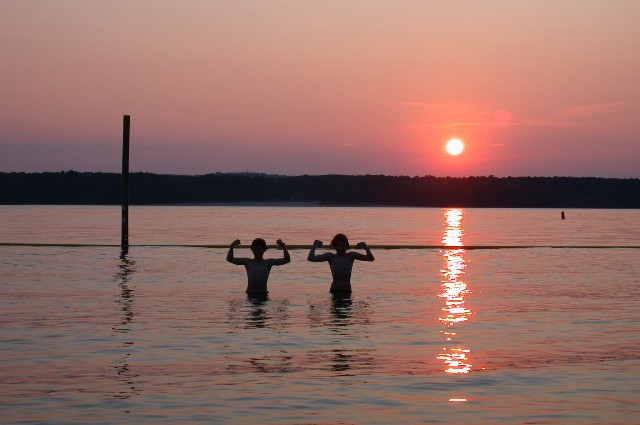 When camping, you play from sun-up until sun-down.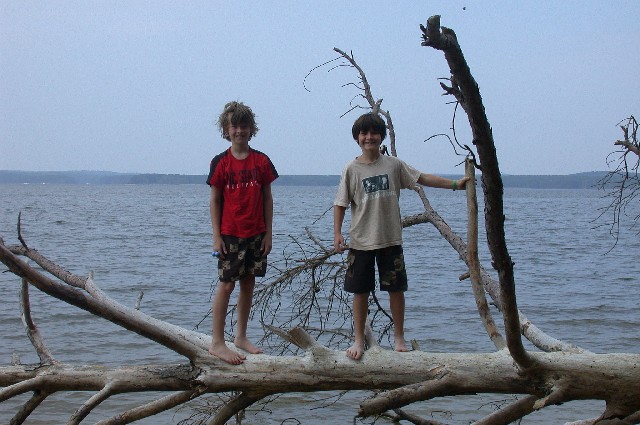 Jonathan on the left, with his friend Josh.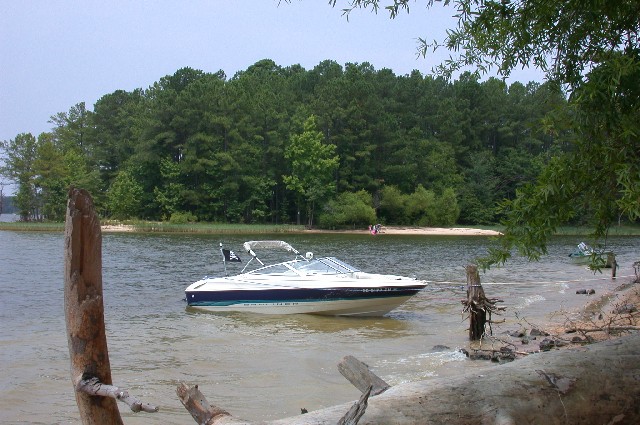 The boat is ready to go!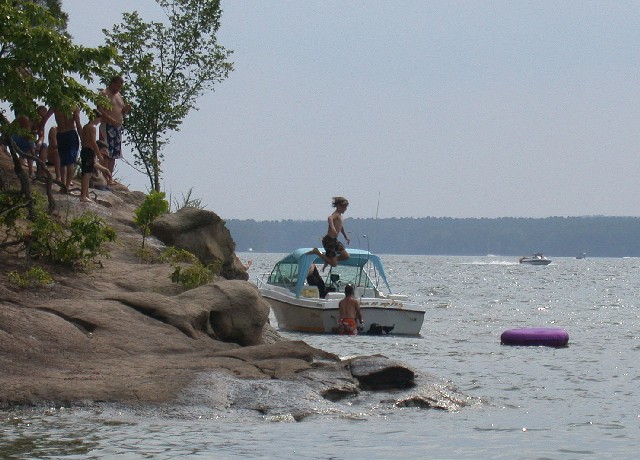 Jonathan jumps off some rocks. I jumped a time or two myself.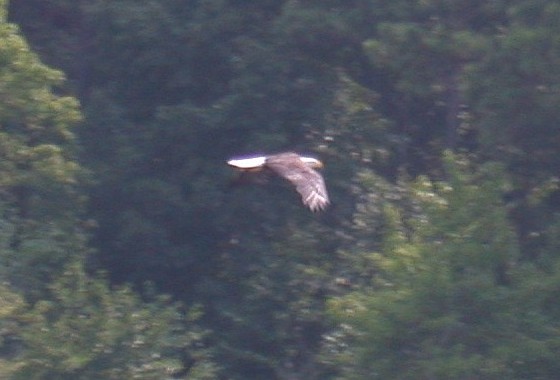 One of several bald eagles we saw over the weekend. I need a better camera!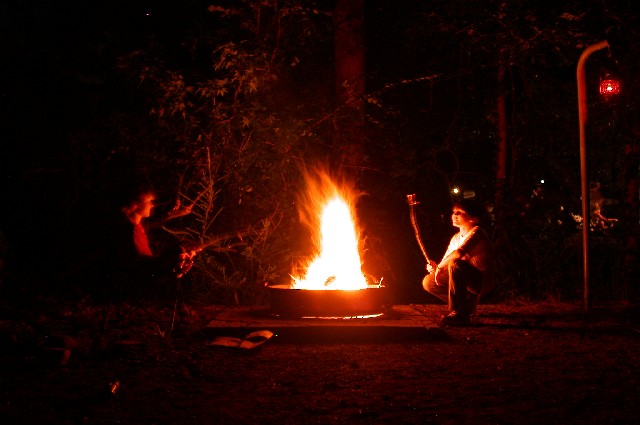 Nothing like roasting marshmallows by the campfire after a long day of play. Jonathan's on the left. That's my red globed railroad lantern hanging from the pole.
---
2008 Season Maiden Voyage
Finally got the boat on the lake for the start of the 2008 season. We went out to Lake Harris on June 1 for the shakedown cruise. Boat ran fine (knock on driftwood). Just road around a bit and the kids did a bit of tubing.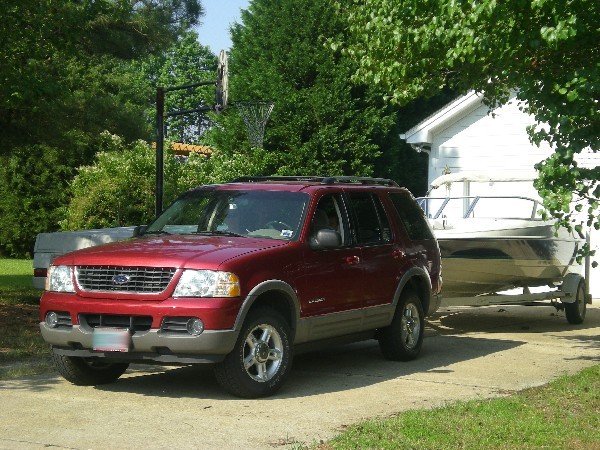 Ready to head to the lake!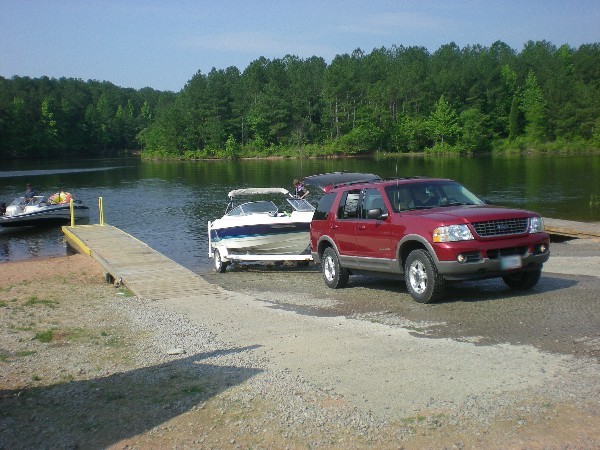 Backing down the ramp.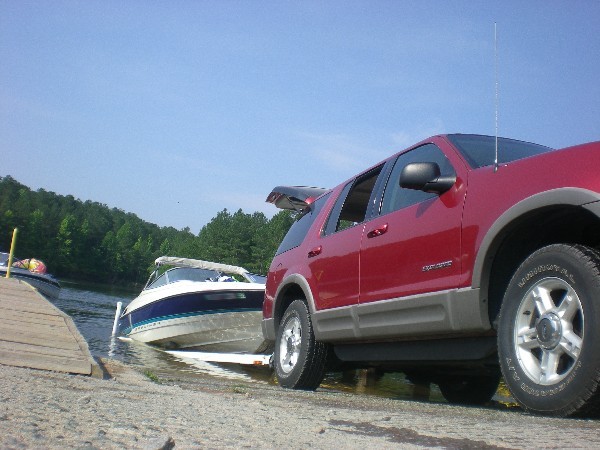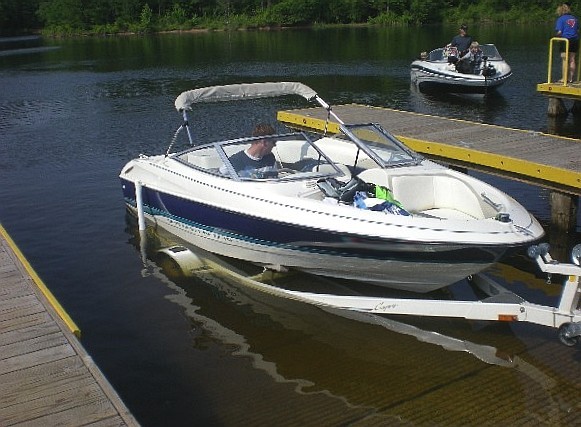 Launching the boat.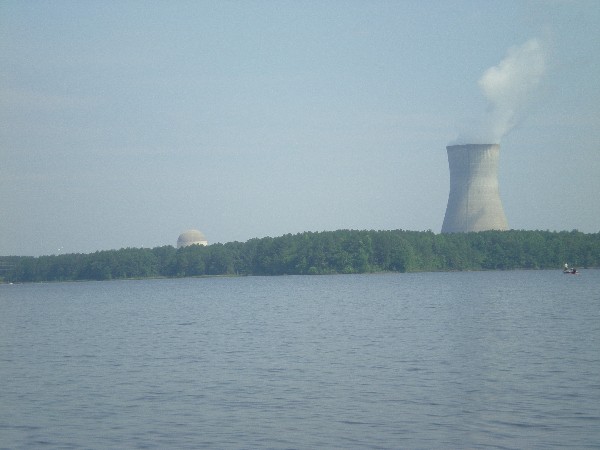 The nuclear plant.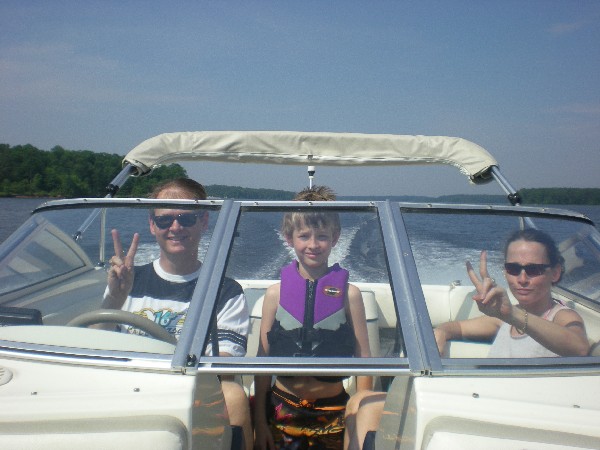 Jeff, Jonathan, and Lynn, cruising along.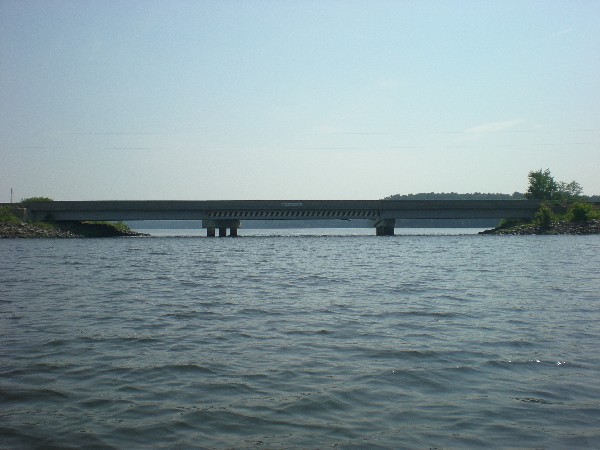 Bridge across the lake. We go under it just to see the birds that build mud nests.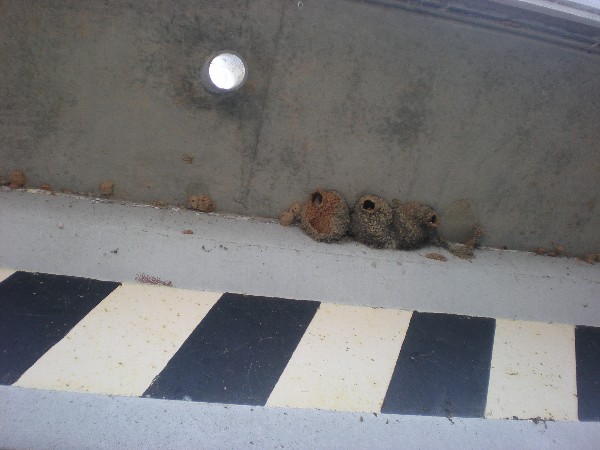 Some of the mud bird nests. It's hard to tell, but there's birds in them.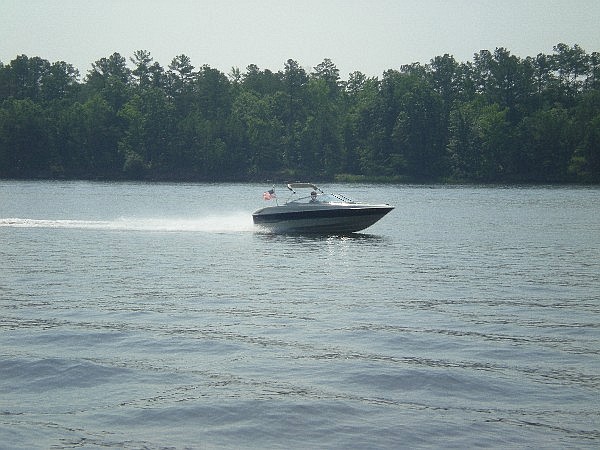 Me and the boat, zipping by.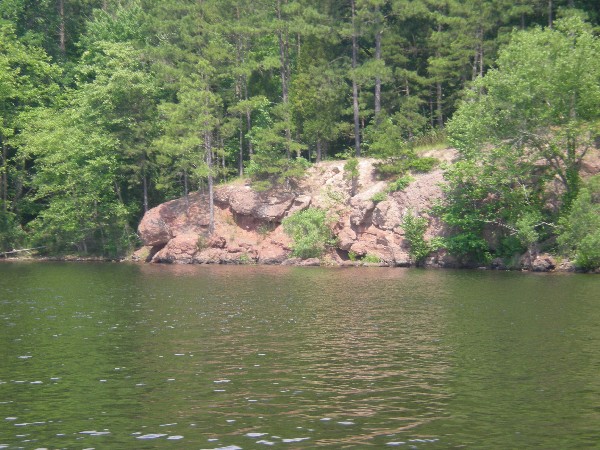 The devil's triangle for anchors. Don't know what's down there, but I almost lost my anchor here and I've seen other boats lose theirs.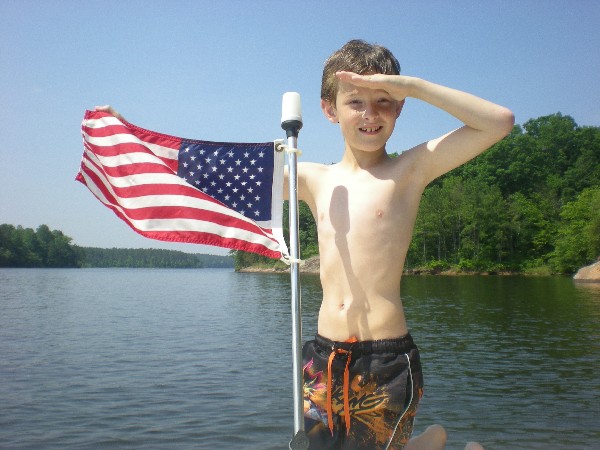 Jonathan.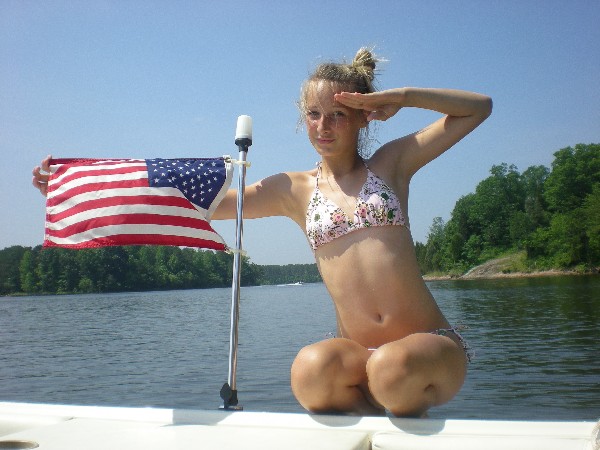 Victoria.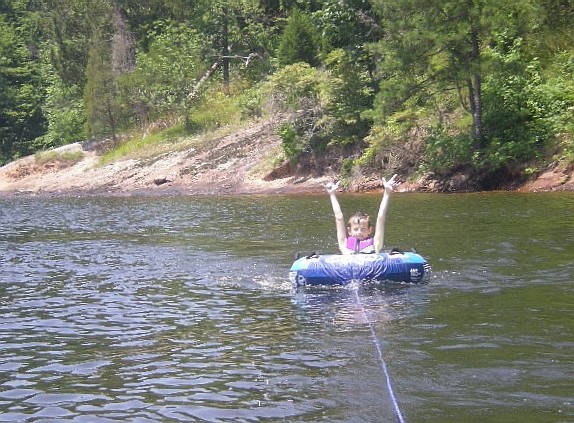 Jonathan tubing.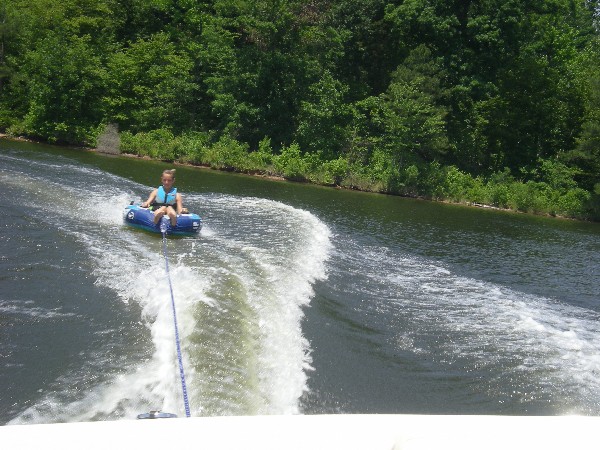 Victoria tubing.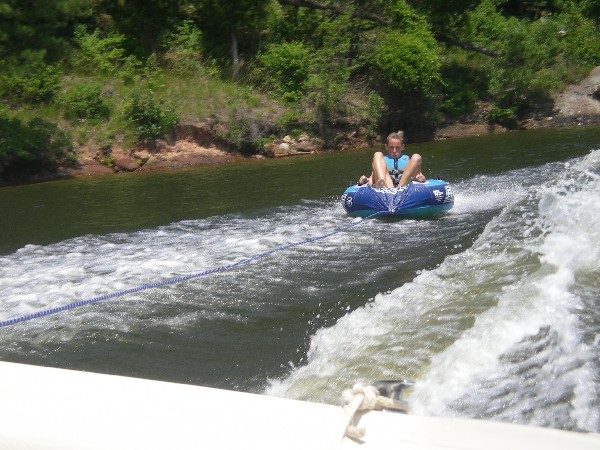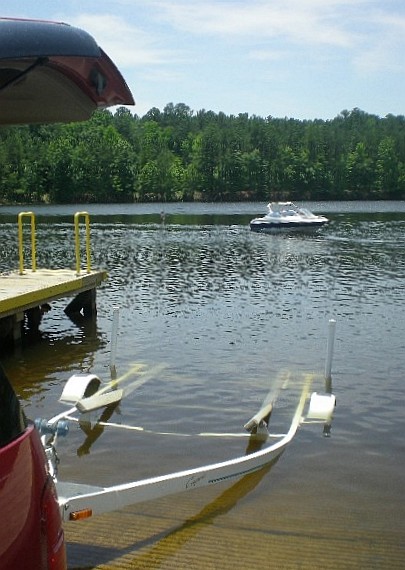 Return to the ramp.
---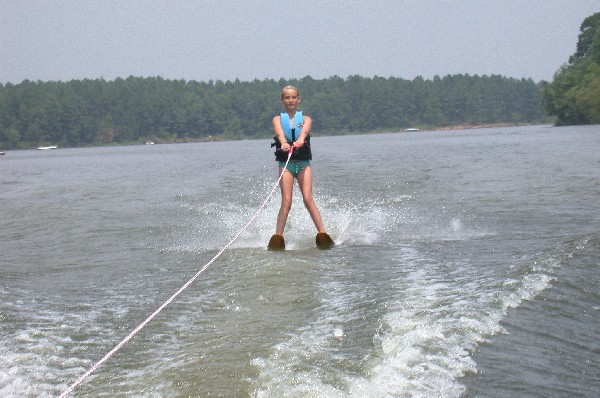 Victoria skiing at Harris Lake, NC in August 2006.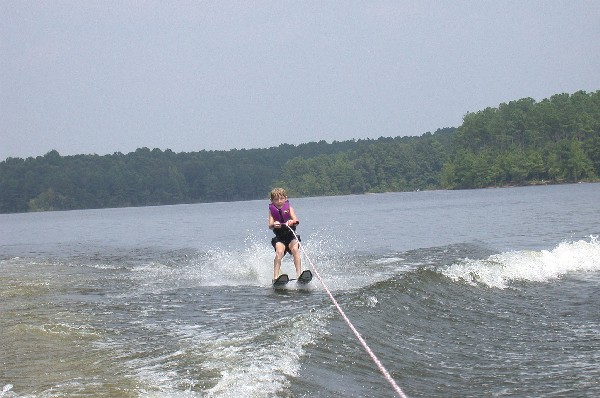 Jonathan skiing at Harris Lake, NC in August 2006.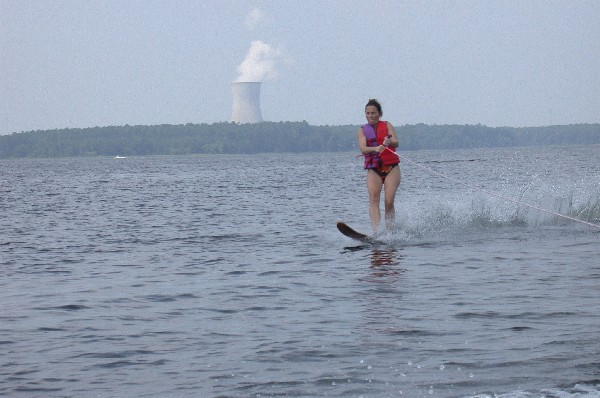 Lynn skiing at Harris Lake, NC in August 2006.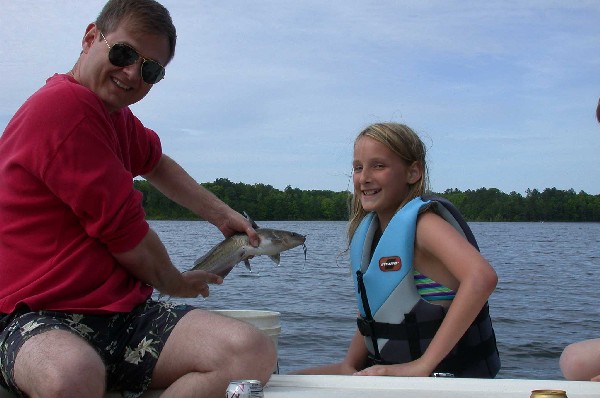 Here's a catfish Victoria caught at Harris Lake, NC in May 2006.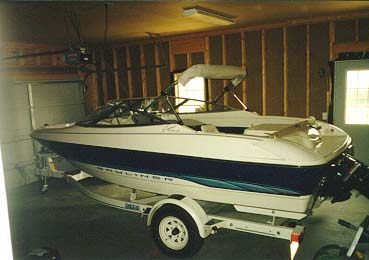 Here's a picture of the boat where it spends most of it's time....in the garage. :)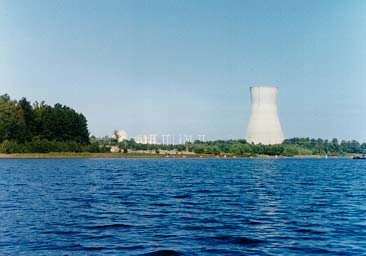 This is a view from the lake we boat on. It is the cooling tower for Sharon Harris nuclear plant. The lake was created to service the nuclear plant. It's great for fishing, skiing, and everything. The shoreline is all natural so that means no houses. You can pick anyplace that you want to camp out. I'm thinking about doing some stargazing out there.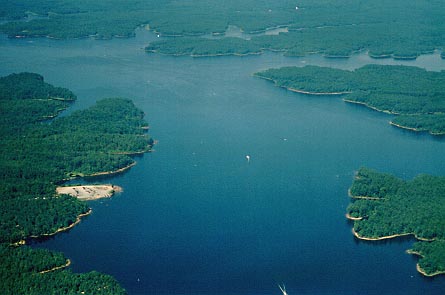 I debated whether or not to put this shot on the flying page. Friend and co-worker Michael King snapped this shot of Harris Lake while we were flying over it (July 1997).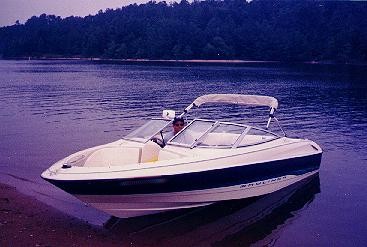 Here's a shot of the boat taken this past summer (1997 with my friend Alex sitting at the wheel.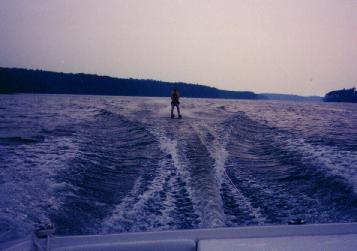 That's me back there skiing behind the boat (Summer 1997).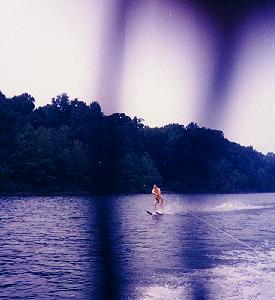 Here's another shot of me skiing to the side of the boat...not too long before I decided to "drink" half of the lake. (Summer 1997)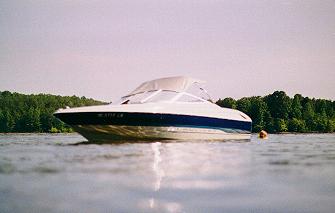 Here's an image of our boat floating on Lake Harris. I took the image while floating away from the boat. That's Victoria bobbing behind the boat. (Summer 1999)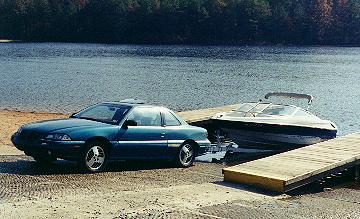 This is an image of the launching of our boat, on Lake Harris. I've had some people jokingly ask me about that "little car" pulling that "big boat". Well, it isn't really a big boat but it kind of looks that way compared to my GrandAm. The car pulls it just fine. Image taken on Nov. 13, 1999.
---