JeffPo's Conductor (electrifed) Lantern Page
Last update: 11/02/15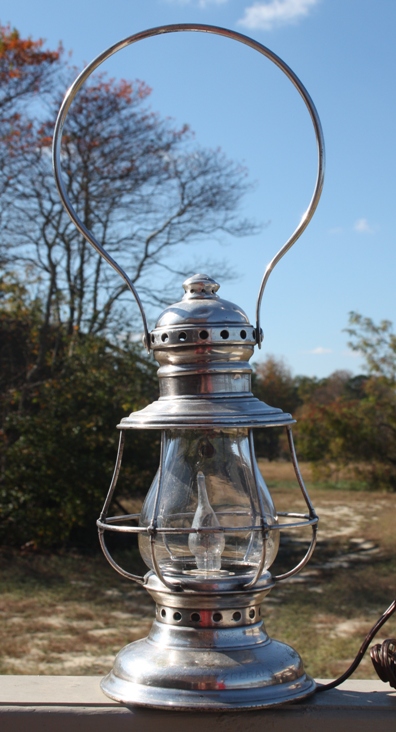 This is a nickel plated conductor lantern made by the CT Ham company Conductor lanterns, sometimes called presentation lanterns, were used by conductors on passenger trains. Back in the late 1800s and the first part of the 1900s, travel by train was a luxurious experience. Passengers were pampered and the décor was sometimes extravagant. The conductor lantern was a more ornate type of lantern that showed the status of not only the conductor, but also of the passengers he served. These type lanterns date from the last quarter or so of the 1800s, to the first decade or so of the 1900s.
The lantern has a clear globe. Some conductor lanterns came with a dual color globe, with green on top and clear on the bottom. The green portion would cut the glare that might shine in a passenger's eyes as the conductor checks a ticket, or lights a step or path.
Unfortunately, this lantern has been electrified. They replaced the burner (and drilled holes) with an electric flicker bulb. Blasphemy in my book! And such actions destroy the value of rare lanterns. I generally wouldn't even consider such a lantern, but conductor lanterns are unique and it's still good enough to display and share, and use for educational purposes.
This lantern is very similar to my Adams & Westlake nickel plated conductor lantern that was used in Pullman Palace Cars.
---