JeffPo's Hanging Rock State Park Page
Last update: 07/14/02
The family and I did a camping trip to Hanging Rock State Park, NC over the Easter 2002 weekend. The park is located about 30 miles or so north of Winston Salem. It's a pretty nice park with a lake, lots of waterfalls, and good hiking trails. Some of the waterfalls offer easy access in case you want to get your feet wet. At the same time there are no barriers to keep you from walking off of sheer cliffs in some areas. I'd like to return to the park sometime without the kids in tow so that I can do more exploring and photography. There were lots of areas that I wanted to climb down to (or up). Plus, Lynn's not too fond of sheer cliffs either. I found it exhilarating. And by not getting to the bottom of some gorges, I'm sure I was missing a lot. Still had a blast though. Below are some images from the trip.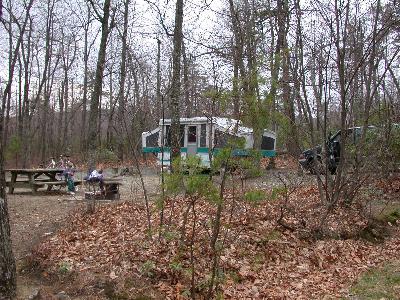 Here's the camper at the campsite. The campsites were clean and roomy, unlike a private campsite I once visited near Grandfather Mountain, where they had us packed in like sardines for maximum profit. Some sites were quite private because of how they were situated. The only down side was that they don't offer power and water hookups. I can do without water because I can just use containers, but I really miss not having AC power. Running my thermoelectric cooler really sucked the camper's battery dry.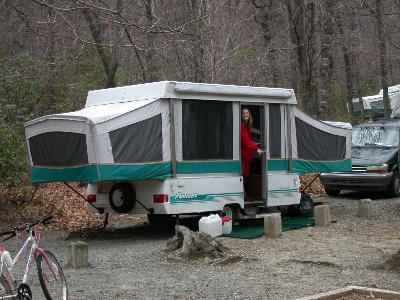 Here's another shot of the camper with my lovely wife Lynn giving me a smile.
Here's a shot of the Upper Cascades water fall. This is an easy hike and you can get right under the water if you want to. There were actually a series of falls below this one and a chute of some sort but I didn't get to explore it. Maybe next time.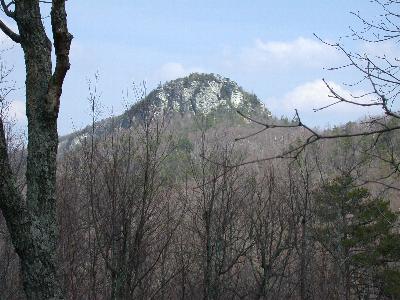 Here's a view of Hanging Rock from the trail head. It's a little over a mile hike (one way).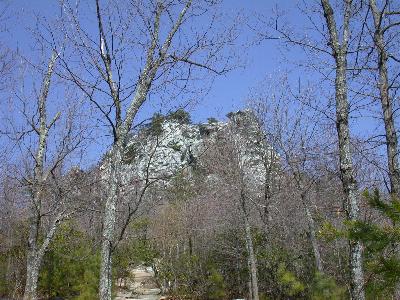 Hanging Rock.....getting closer...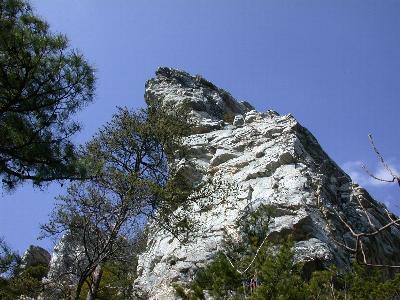 Hanging Rock...at the base now...only a little further....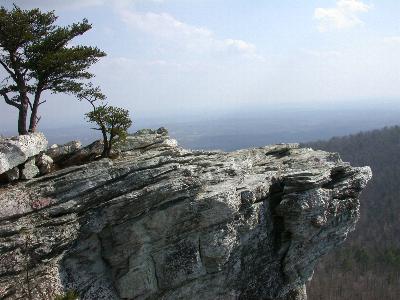 Up on top, here's Hanging Rock. You can climb out on it too. It seems that most of the cliffs in this area seem to hang out over the base. When I was up there it was really gusty. I'm mean REALLY windy and gusty! And everywhere you looked, a couple of steps the wrong way could send you falling far enough for you to scream TWICE before you hit the ground. So you really have to be careful hiking around here. The view was awesome.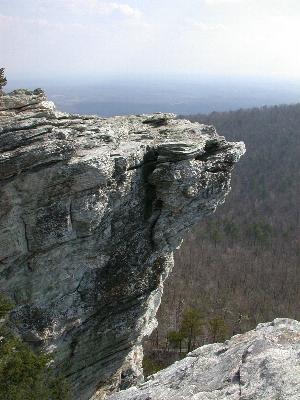 Another view of Hanging Rock.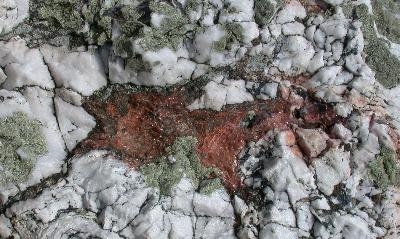 Found this interesting "rock" up on Hanging Rock. It was really bright and looked like copper. Spoke to a ranger and she didn't think there was any copper around there. She said there is some iron ore that might look like rust. But it didn't look like any rust I've ever seen, so I'm not sure. It really glistened in the sun.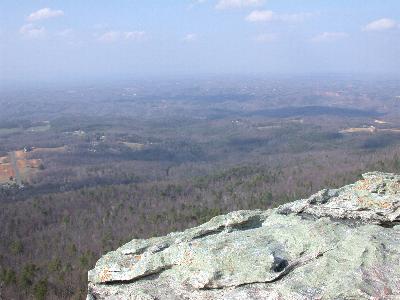 Looking toward the valleys toward the east of Hanging Rock.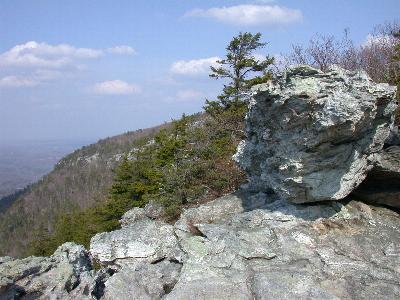 Looking southward from Hanging Rock. There were quite a few soaring buzzards around the peaks.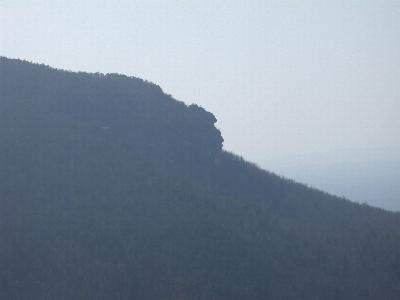 Looking northward from Hanging Rock toward Indian Rock. Do you see a profile of a "face" in the rock? From this angle, it looks more like a monkey to me. But driving down the roads, I did see it at other angles where it did look more like an Indian. There is a trail that leads up and around the ridge, but it's quite long and I decided to save it for another trip when I had more energy and time.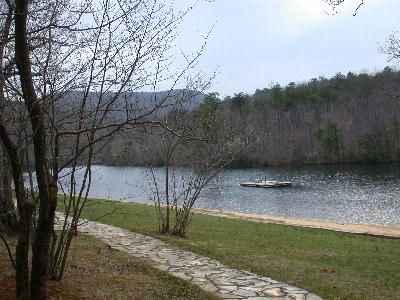 Here's the lake at the park. I've seen summer pictures when everything is green and I'm definitely going back when it gets warmer. The lake offers fishing and swimming and boat rentals (human powered of course).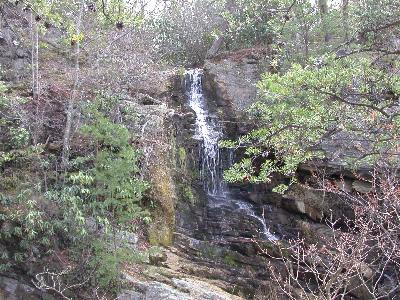 Tory Falls. This is a pretty easy hike but the cliffs at the edge of the falls can spook you a little if you get too close. :)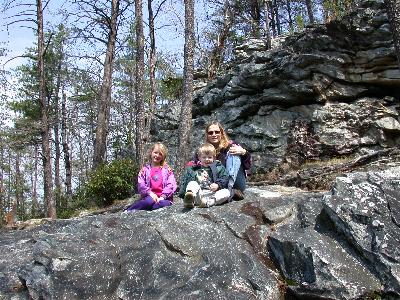 Lynn, Victoria, and Jonathan near Tory Falls. Notice the interesting rock layers behind them.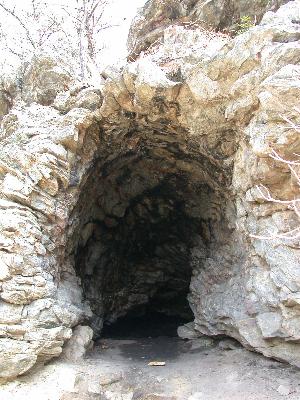 Tory's Den. This small mountain cave dates back at least to the Revolutionary times. It was probably used by quite a few Indians in the area. The roof of the cave had rocks that were blacked by soot from the campfires.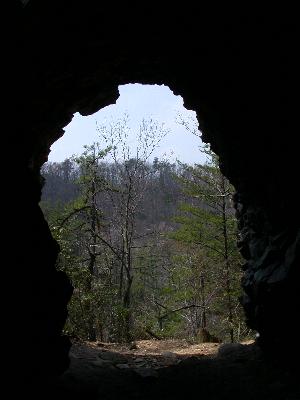 Tory's Den from the inside looking out.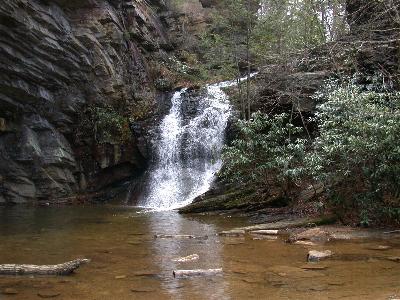 Lower Cascades Falls. The view from the top is good and bad. If you like looking over the edge of a sheer cliff, then it's good. But the bad part is that you have to bravely inch yourself to the edge of the abyss to get a decent look at the waterfall. And even then you can't really take it all in. But if you hike down to the bottom, via some slippery rocks, you'll get a great view of the water fall. In fact, like the Upper Cascades, you can easily get right under the water if you want. After returning from my hike down to snap this picture, Victoria and I CAREFULLY climbed back down so that she could see the water fall. We also found two or three caves that also had soot blackened roofs.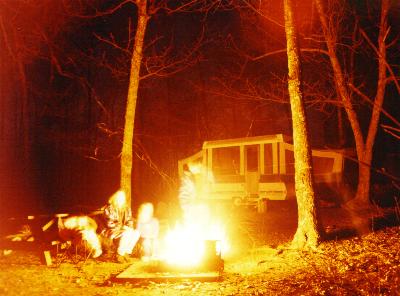 This is a timed exposure of us gathered around the fire. Starting from the left you have Jonathan, Lynn, Victoria, then me as the ghostly image right behind the fire. I exposed the film a little bit too long, but it's an experiment every time I try this anyway.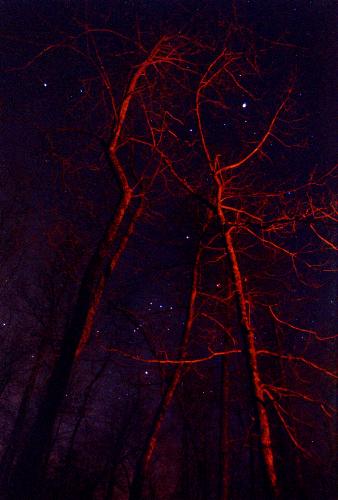 In this timed exposure, you see the constellation of Orion through the trees (which are illuminated by the campfire). The bright "star" to the upper right is Jupiter.
---