JeffPo's Linville Caverns Page
Last update: 10/14/00
This first set of images is from a trip to the North Carolina mountains in the first part of September 1999 to attend a star party. Unfortunately it was clouded out, but I did get to enjoy some of the local sights in the area. One of them was Linville Caverns. These caverns have a rich history, including Civil War soldiers hiding in there. A tour guide leads you through the narrow passages.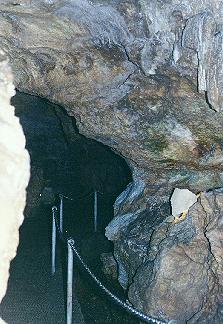 Here's one path inside of Linville Caverns. To the right of the walkway is a stream.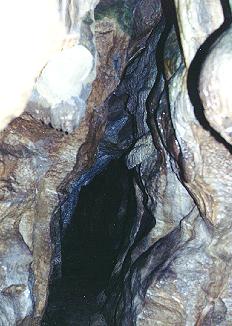 Here is a very narrow passage within Linville Caverns. In all other places of the caverns the tour guide tells you not to touch anything because of the fragile nature of the caves. But here, not only do you have to touch the walls to get through, they encourage you to do so because they said they don't want the passage getting any more narrow.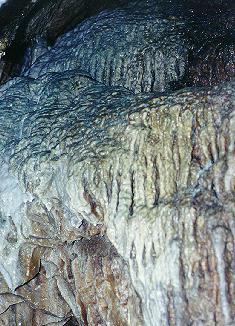 Here's some wall formations with the caverns. These are caused by mineral deposits from water. It takes thousands of years to form.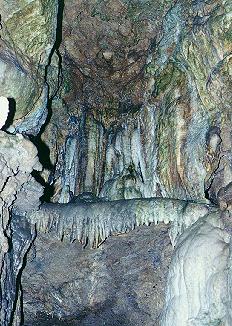 Here's another wall formation within the caverns. This is called the Wedding Chapel and if you look at it just right, it can look like a bride and groom at the alter.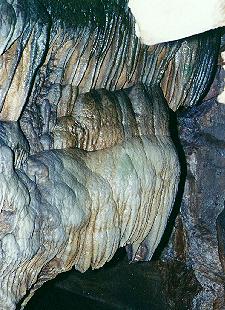 Here's another colorful wall formation within Linville Caverns.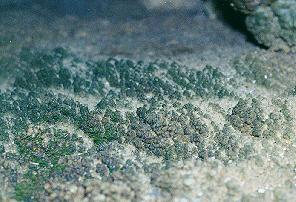 Here were some unique, greenish deposits on the floor of one little side cave. Our teenage guide had no idea what they were. She could only say her canned speech she gives as we walk through. Anyway, I snapped a picture because they looked cool.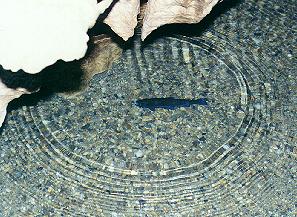 The stream that runs through Linville Caverns is filled with blind trout. This stream is actually quite large in some places and is considered the third level of the cave system. At one point, we were walking on metal grating that was over a section of the stream that seems to have no bottom to it. The water was also quite clear.
---
This second set of images is from a trip to the North Carolina mountains in September of 2000.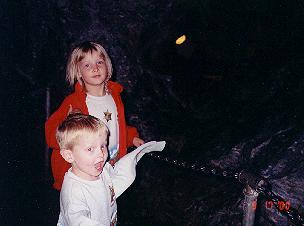 Here you see Victoria and Jonathan in the caverns.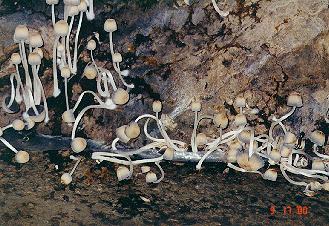 Here are some mushrooms growing into the caverns. They looked really weird. All the images from this trip into the caverns were taken by Lynn with her automatic 35mm camera. I was quite pleased with the images.
Here's Victoria in a narrow passage in Linville Caverns.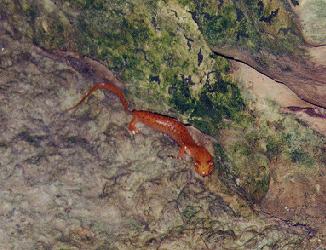 Here's a cool image of a bright red/orange salamander in the caverns. In fact, only my family and I noticed it. The rest of the people on the tour were too busy listening to exactly what the guide said. This is my third time through the caverns and I've learned to keep my eyes open and look in every little crack and corner.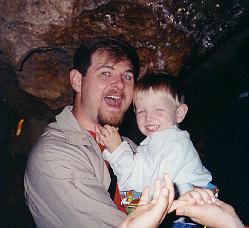 Here's Jonathan and I, surprised by the camera.
Here's one of the blind trout that swim in the stream inside of the caverns.
---