JeffPo's Reading Railroad Lantern #2 Page
Last update: 10/29/09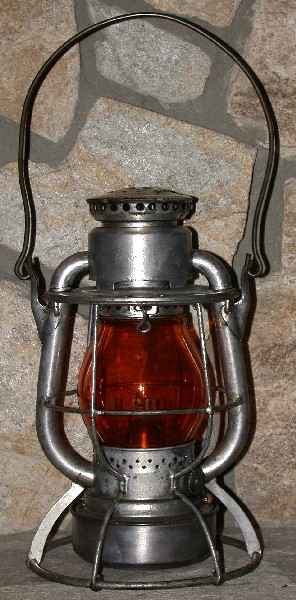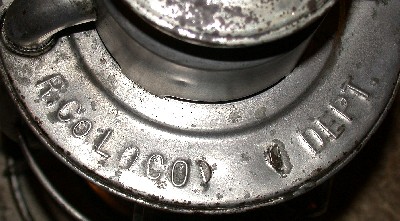 This Dietz Vesta lantern was used by the Reading Company. It's the second lantern I have from this railroad line. The lantern lid is stamped with R.Co LOCO DEPT.
As you can see, this style of the Dietz Vesta is slightly different than my others. It was made in the first quarter of 1924. It is larger and what is generally referred to as a "high top" Vesta. The metal seems to be a little more robust. Also notice that the fuel fount is smooth instead of having the ridges that most "modern" Vestas have. Check out my other Reading Railroad lantern to see the difference.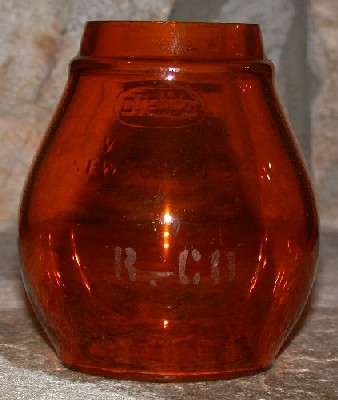 The amber/orange globe (officially yellow) in this lantern is etched with R. CO., which stands for Reading Company. Notice that the globe is also shaped a little differently from the more "modern" Vesta globes. There is no extension on the base and it has a more curvy, pear shape to it. It fits the flow of the lantern perfectly.
The amber/orange globe means it could have been used to mark camp cars (for workers staying overnight), or for notifying the train engineer that there were Form 19 orders to pick up. Form 19 orders are "hooped" (affixed to a stick with a hoop on it that the engineer could put his arm through to grab it) up to the engineer and conductor once the train is underway. People tending the railroad track switches also used amber globed lanterns for signaling.
---
Reading Railroad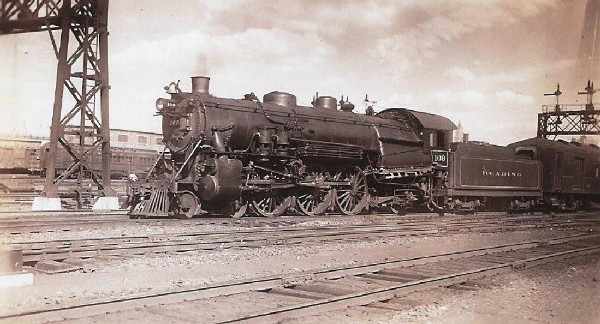 This is one of the steam locomotives that was plowing the rails for the Reading railroad along the time this lantern was made.
The Reading Company (pronounced "Reding"), although mainly remembered as a railroad, was also a multifaceted industrial giant. Originally established as the Philadelphia & Reading Railroad in 1833 to transport anthracite coal, the pioneering 94-mile line evolved into a mighty corporation serving eastern Pennsylvania, New Jersey and Delaware. Operations included coal mining, iron making, canal and sea-going transportation and shipbuilding. With its great complex of shops for locomotive and car building and repair, and constant advances in railroad technology, the company held a position of leadership in the railroad industry for over a century. The Philadelphia & Reading created the Reading Company to own on paper during the 1890s, trying to ward off the government's effort to break up monopolies. After World War II as America began to turn away from coal as its major fuel, the Reading's fate began to turn as well. The Reading entered bankruptcy in 1971 and its operations were taken over as part of the federally financed CONRAIL in1976.
---