JeffPo's Railroad Switchlamp Page
Last update: 10/29/09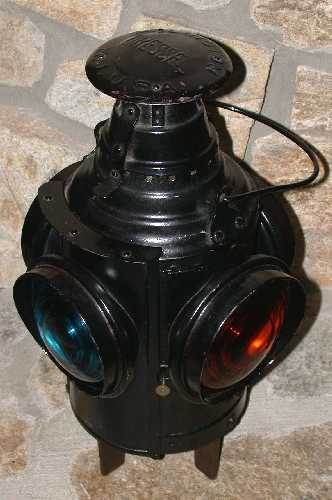 This is a railroad switchlamp made by the Dressel company. It is quite a bit larger than my semaphore/crossing lamp. It has four large lenses, two green and two amber. Since this lamp has amber lenses (as oppose to a red ones), we know it was used in the rail yards to indicate the switch settings. A main line switch would use a red lens. Inside the square mounting hole on the bottom, it says "ME CENT", which stands for the Maine Central Railroad.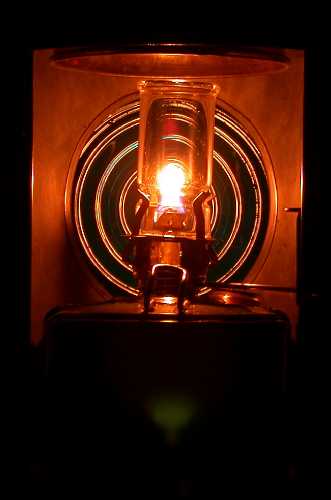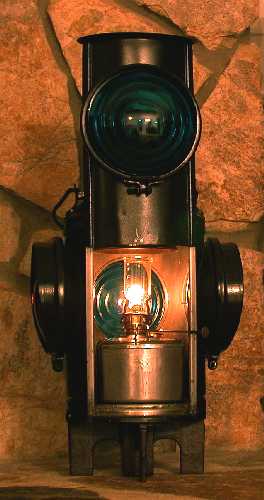 Like my other Dressel lamp, a sliding panel door gives access to the burner inside. This burner accommodated a clear glass chimney to aid in the burning process and to help protect the flame from going out (or so I've been told). It also has a much larger fuel font for long burning times. This lamp had to work all night.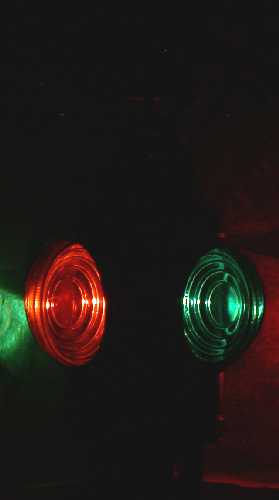 Although the lens is aqua blue in natural light, it actually shines with a green glow because of the yellow flame from the kerosene burner. This was also referred to as a "white" light. Sometimes these switch lamps would have "day targets" on them, which were basically just round plates that were painted to correspond with the color of the light. For rail yard switches, a white day target was used with the green lens.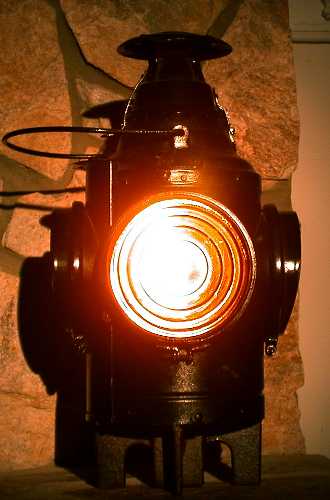 And like my previous lamps, there's magic in them thar lenses! This shot is a timed exposure with the amber lens directed toward the camera. The lamp and wall were illuminated with a flashlight. Again, it puts out a brilliant beam of light from just a simple flame. Amazing!
---
Maine Central Railroad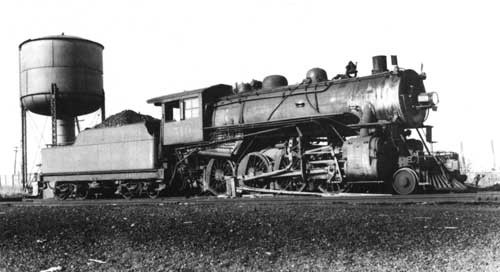 Maine Central Railroad Locomotive #519.
The Maine Central Railroad was chartered in 1856. It consolidated the Androscoggin & Kennebec and Penobscot & Kennebec railroads and began operating in 1862. The Maine Central grew rapidly in the late 1800s. By 1884, it operated a 524 mile system and was the largest railroad in New England. It was at its greatest during the World War I time frame. The railroad owned two resorts, a trucking and bus subsidiary, steamboats, and even coastal ferries. After the war, the growth of Maine Central slowed rapidly. It entered a period of joint management with the Boston and Maine Railroad in 1933. In 1980, the Maine Central Railroad was bought by US Filter Corporation, and sold again to Guilford Transportation Industries in 1981. Labor disputes and cost cuts took a toll on the Maine Central during the middle and late 1980s. Operations today are steady and predictable. Some of the rail lines that were abandoned are in use by short line railroads in the area. There is some promise that some of the former Maine Central routes may be restored.
---