JeffPo's 2nd Dressel Railroad Switchlamp Page
Last update: 11/05/05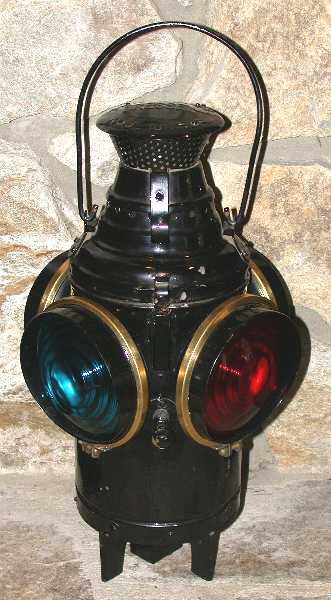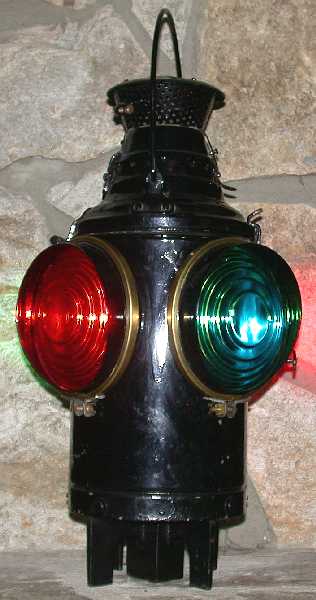 This is another railroad switchlamp made by the Dressel company. This one differs from my other Dressel switchlamp in that it is taller. It has four large lenses, two green and two red. The aqua blue lens shines a signal green, indicating that the switch is set to straight ahead. A red signal would indicate that the rail switch is set to the siding. Inside the square mounting hole on the bottom, it says "WAB", which stands for the Wabash Railroad. I've added brass lens retainer rings from the Krise Depot to dress the lamp up a bit.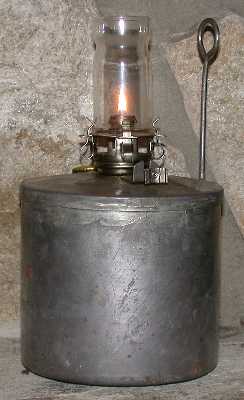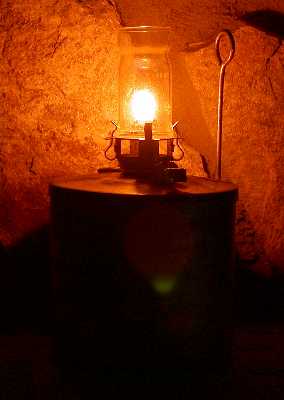 The fuel fount on this one also differs in that it is round instead of rectangular. You gain access to it by flipping open the top, as this lamp does not have a sliding door panel.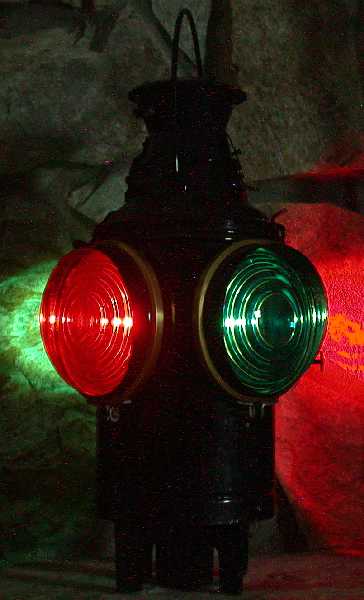 As you can see in this timed exposure, the lamp puts on a fine display in the dark. The aqua blue lens glows with a signal green color because of the yellow flame. The beams of light are very concentrated and bright when seen head on, which was needed when these lamps were doing their job. I'm still amazed by the optical magic.
---
Wabash Railroad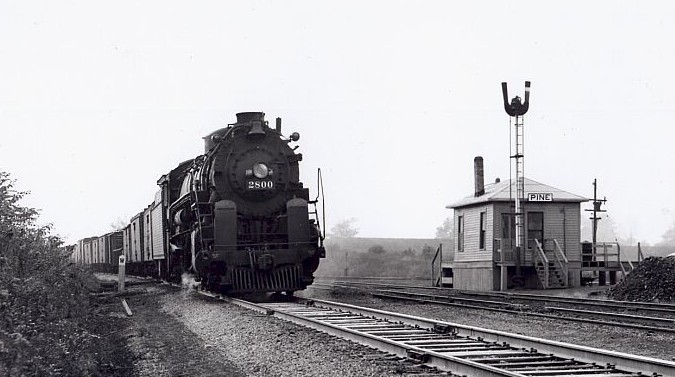 Wabash engine passing Pine Junction in October of 1947. From the Harry Zilmer/ Strombeck Collection.
The Wabash Railroad operated in the mid-central United States, in states such as Ohio, Indiana, Illinois, Iowa, Michigan, and Missouri. It also had tracks in Ontario. The Toledo and Illinois Railroad was chartered in April 1853 in Ohio. The Lake Erie, Wabash and St. Louis Railroad was chartered that same year to continue the line. In 1856, the two lines merged to form the Toledo, Wabash and Western Railroad. That railroad went bankrupt and was sold at foreclosure.
Through numerous charters, mergers, and reorganizations, the Wabash Railroad was formed in 1889. The Wabash Pittsburg Terminal Railway was formed in 1904 to give Wabash access to Pittsburg and Pennsylvania (i.e. Pennsylvania Railroad and New York Central Railroad territory), but it overextend itself and went bankrupt in 1908. The Wabash Railroad itself went through foreclosure and reorganization as the Wabash Railway in 1915.
The following years would see the Pennsylvania Railroad (PRR) acquire loose control of the Wabash, and finally absorb it. By 1960, the PRR leased the Wabash to the Norfolk and Western Railway. The Wabash Railroad Company was around until it was absorbed into the Norfolk Southern Corporation in 1991.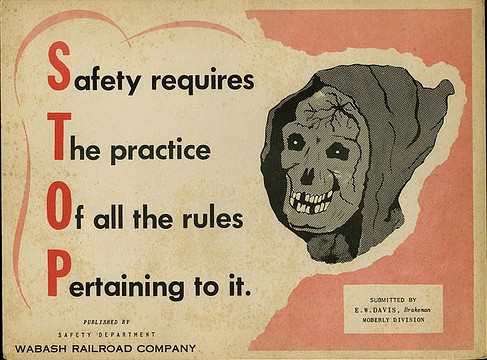 Interesting safety card from the Wabash Railroad. Looks more like a Halloween decoration!
---