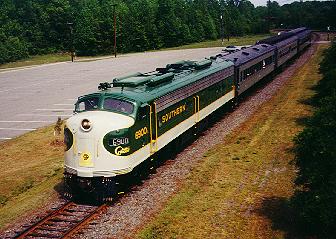 Created: 04/25/17
Last update: 11/09/17
I don't think I've yet to meet someone that wasn't at least a little bit fascinated with trains. Some of it might have to do with their representation in the movies while another part of it might be the fact that kids (and adults) can get working replicas to "play" with, right in their own living rooms. Trains are a part of America's past and future. They helped to build this country and they continue to help it move commerce and people. I've had a love for trains for as long as I can remember and I still stop and watch any train that goes by.
Steam locomotives ruled the land in the 1800s and early 1900s. They were replaced with diesel locomotives during the first part of the 1900s, with the final ones leaving in the 1950s. Diesels were more cost effective in fuel and maintenance. Today steam engines only exist in museums, theme parks, or for scenic rides. Diesels are the workhorses on the main lines.
---
Norfolk & Western Steam Engine Excursion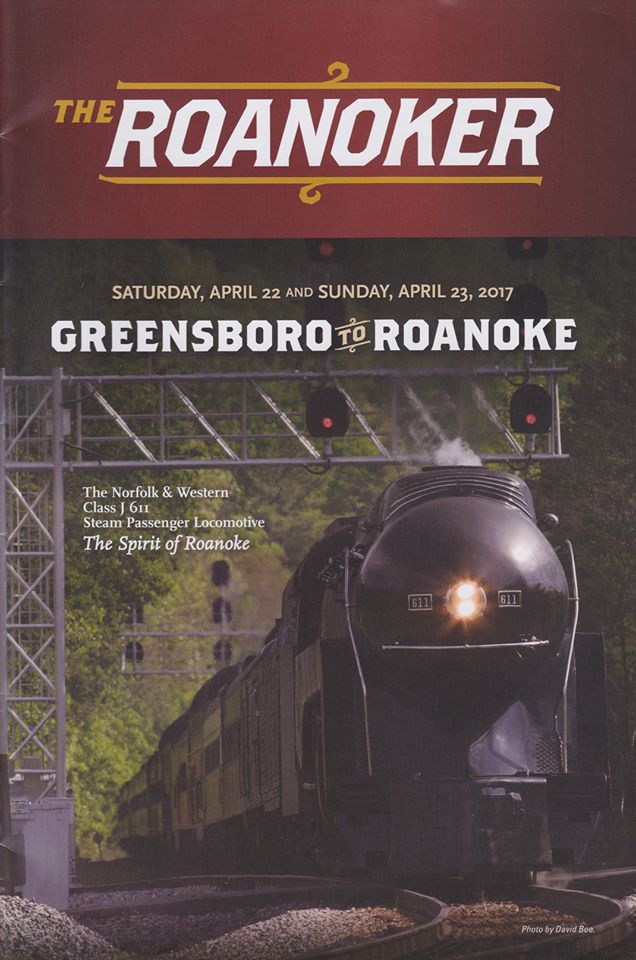 On April 22, 2017, my wife and I took a railroad excursion from Greensboro, NC to Roanoke, VA and back. There were a variety of old passenger cars pulled by an old Norfolk & Western Class J steam engine, number 611. Very fun trip.
Here's a link to some YouTube video someone made of our train that day. We were in the next to the last car (the silver one with a the reddish stripe along the windows), on the left side.:
https://www.youtube.com/watch?v=_W5DGlLq1T0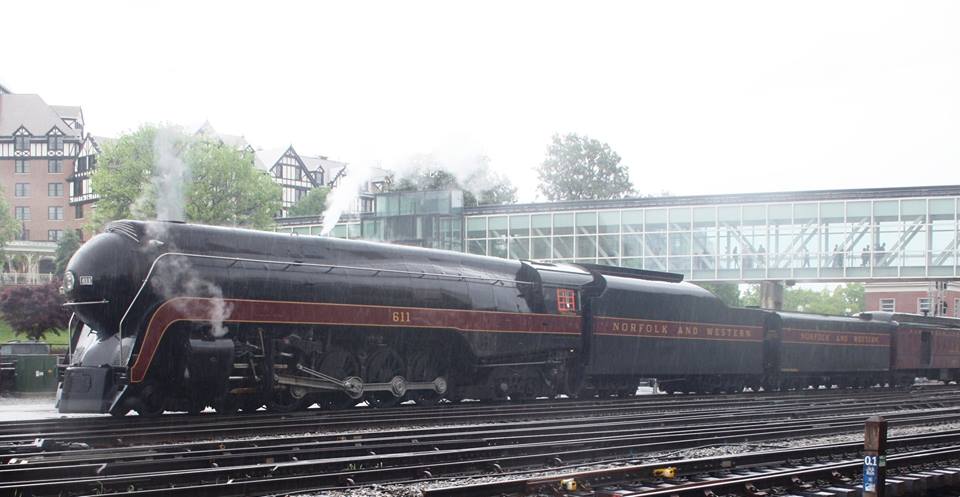 This is the 611. It is the last remaining engine of the 14 J class passenger steam engines built by the Norfolk & Western Railway. It originally rolled out of the shop in May of 1950.
She could pull 15 cars at 110mph. The J class locomotives averaged 15,000 miles per month.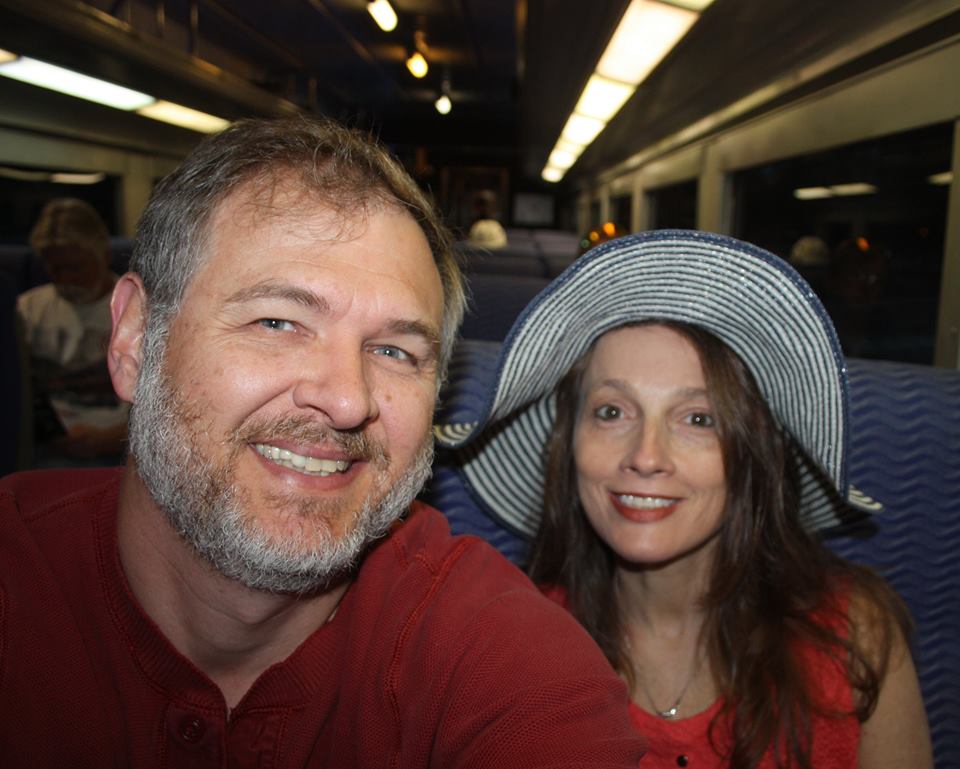 A selfie of me and my lovely bride.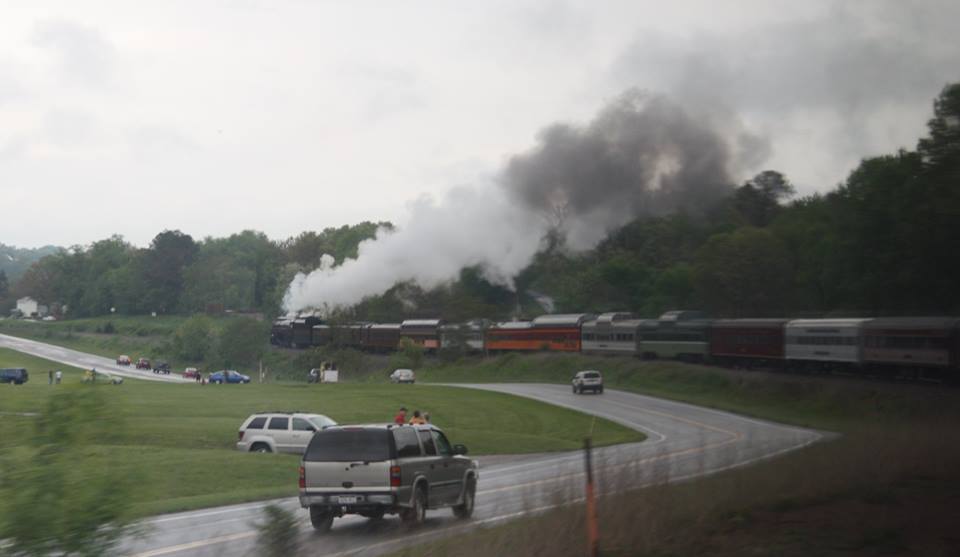 As we rounded a bend, we could see the locomotive up front. All along the route people were lined up, waving, and snapping pictures and video. It's like we were famous or something. :)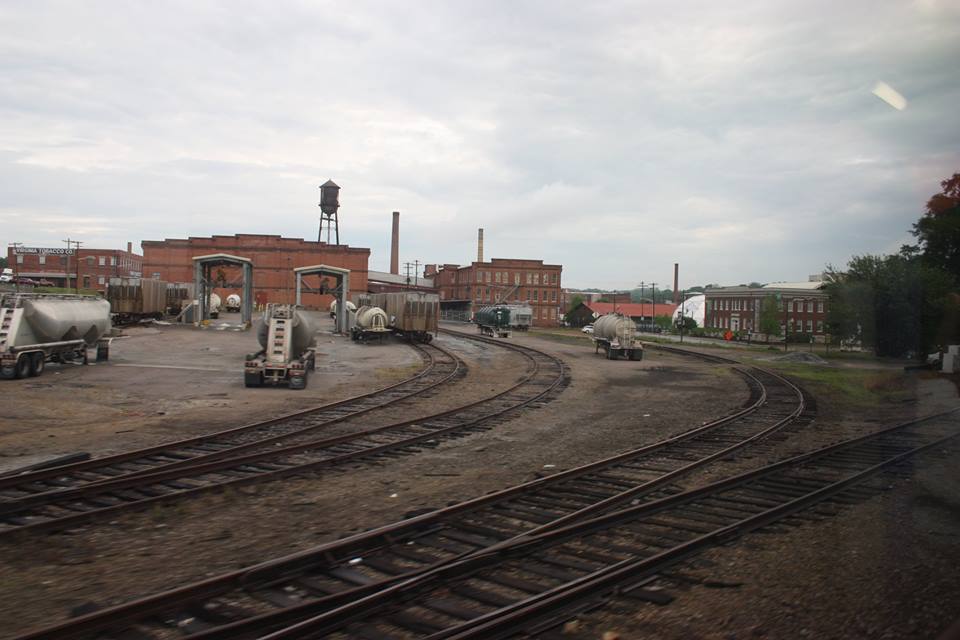 Typical industrial scene with rail.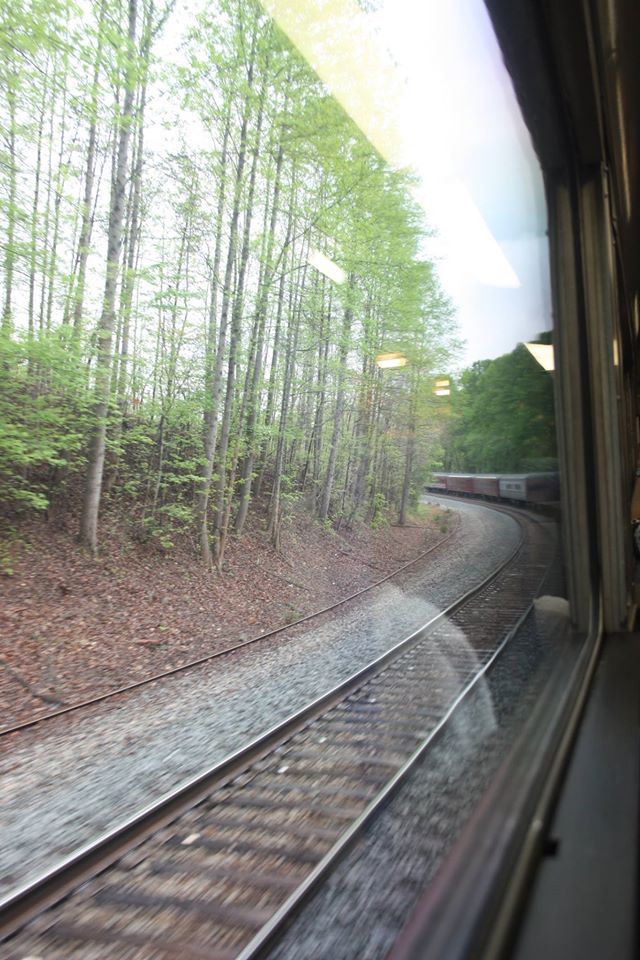 Rounding a bend in the country side.
Crossing the Dan River.
And old Norfolk & Western caboose. Of course, passenger trains didn't have a caboose.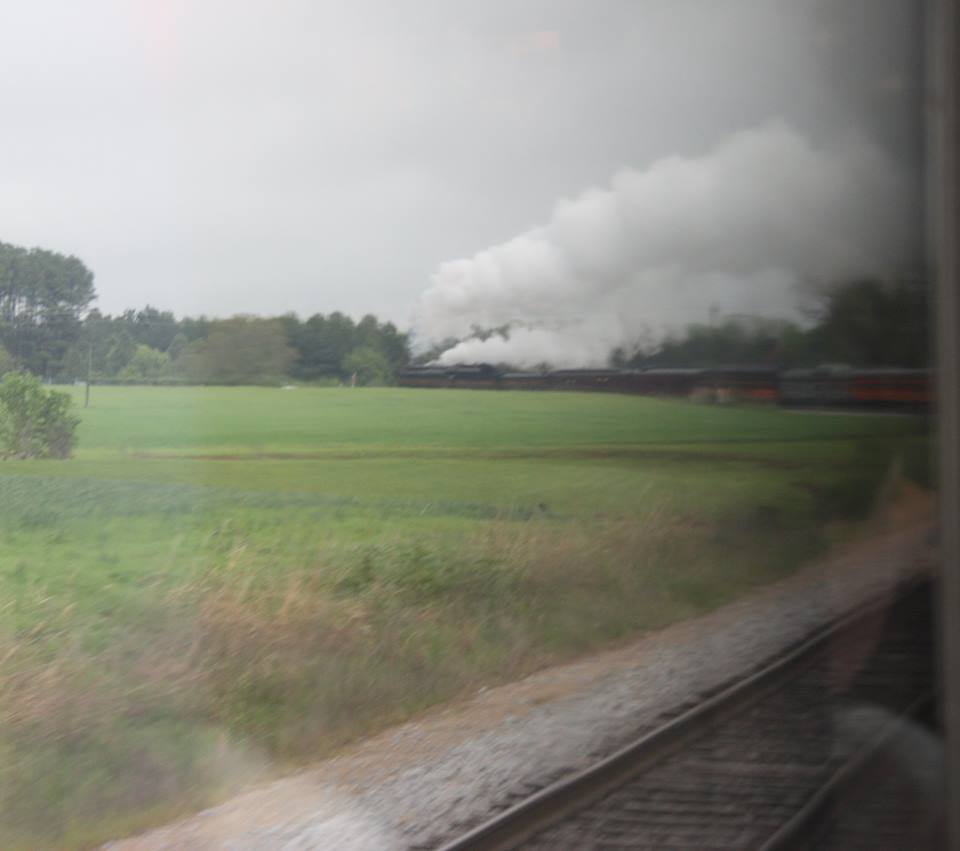 The train rounds another bend. At 20 something cars, this was a very long passenger train.

One of the domed passenger cars.

Another domed passenger car.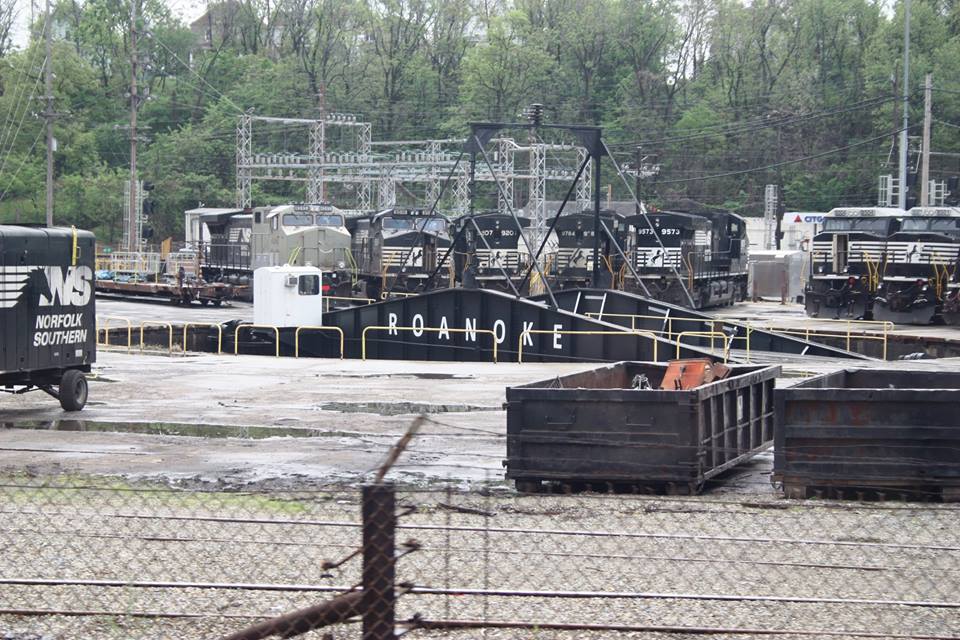 Turn table at the Norfolk & Southern Railway yard. The Norfolk & Southern was formed by the merger of the Southern Railway and the Norfolk & Western Railway in 1982.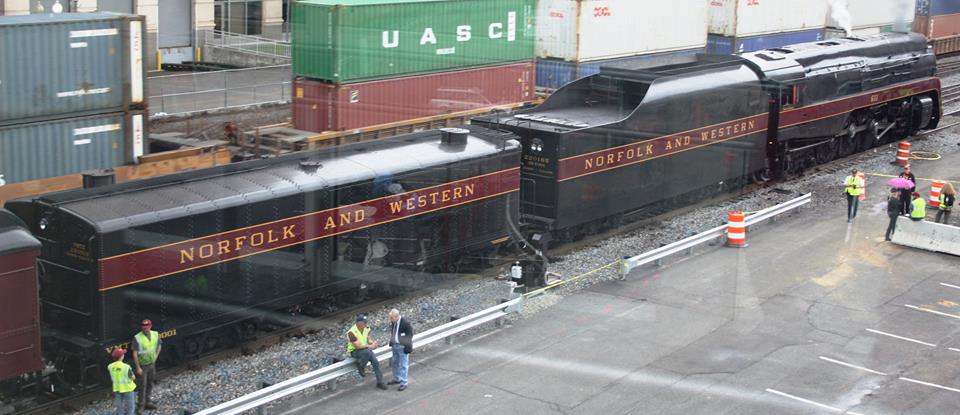 Workers tending to her needs before we make the trip back to Greensboro, NC.

The old meets the new. A modern Norfolk & Southern diesel freight train passing the old Norfolk & Western passenger train. Today, except for a handful of commuter type railroads, and tourist railroads, all major passenger traffic is handled by Amtrak. Gone are the days of big railroads like the New York Central, or the Southern Railway, hauling passengers across the nation.
---
Rural Hall, NC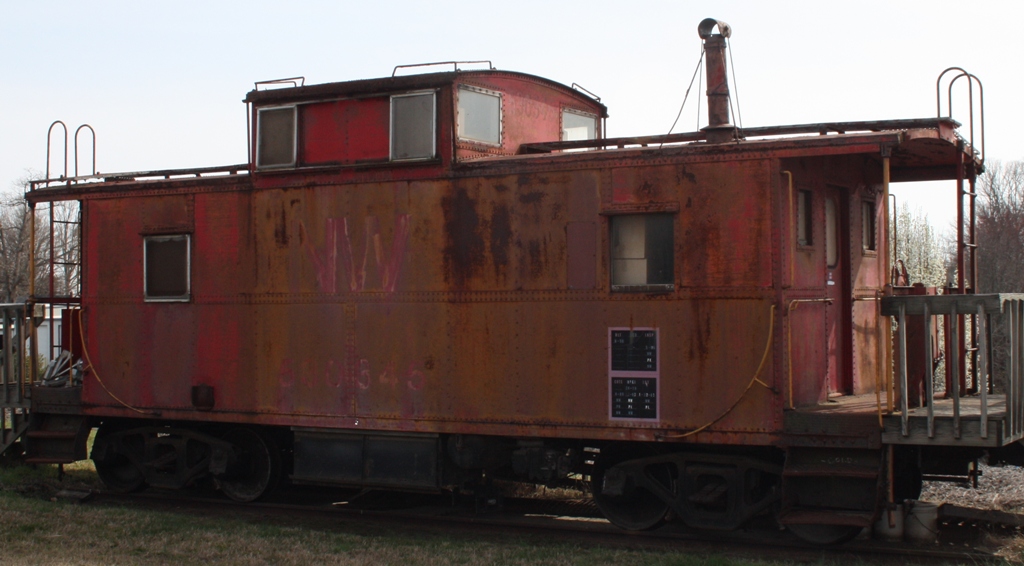 Old N&W caboose in Rural Hall, NC. You can barely make out the N&W painted on the side. Looks like someone converted this one into some type of storage shed. Take in April 2013, during a trip to Hanging Rock State Park that my son Jonathan and I did.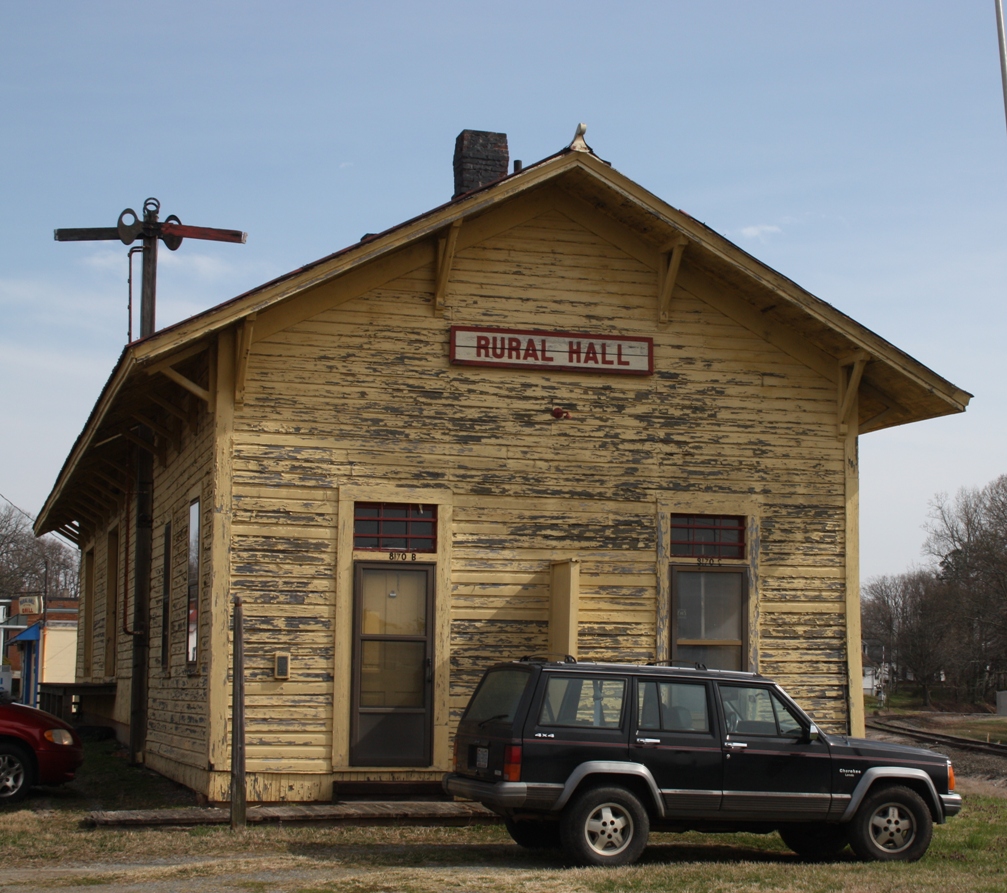 Old Rural Hall train depot. Notice the semaphore signals on the left.
---
Tweetsie Railroad
Tweetsie Railroad is an amusement park in Blowing Rock, NC. It's based on a "wild west" sort of theme. It's a fun place with rides, shows, food, etc. The main attraction is the real, working steam engine that pulls a consist of passenger cars around about a 3 mile loop. Along the way you learn some history, get "robbed" by bandits, and "attacked" by Indians.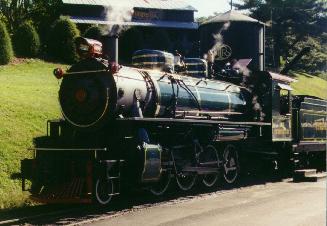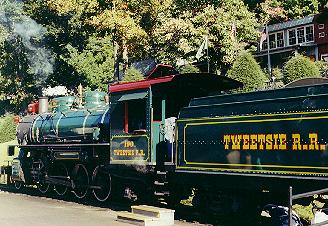 Here's a couple of shots of the Tweetsie Railroad engine.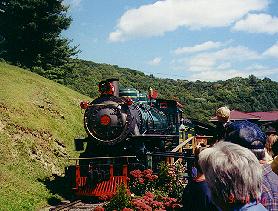 Here's "Tweetsie" pulling into the station. If you want to hear what Tweetsie sounds like when pulling into the station, download the wave file below. I took it off of my camcorder tape.
Tweetsie's Whistle (153K .wav file)
---
North Carolina Transportation Museum
The NC Transportation Museum is located in Spencer, NC. Although it has tributes to other forms of transportation, the locomotives are it's main attraction. The building and grounds use to be the site of Southern Railway's maintenance shops. It's a great place to take a ride on a steam or diesel train without having to pay a lot of money. And there is a lot of stuff to look at too. I only wish they had more track for the rides. You basically back out onto the main track, then travel for about 3/4 of a mile, then you backup into the station. It would be much, much better if they had some sort of loop. Even so, it's still a neat place to go.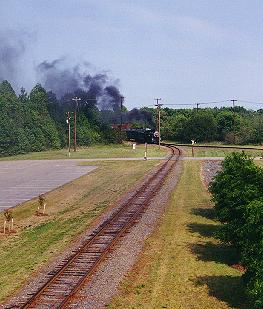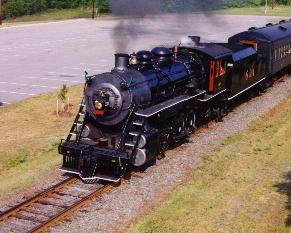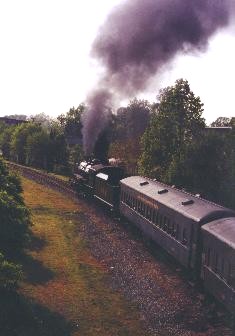 A steam engine at the NC Transportation Museum.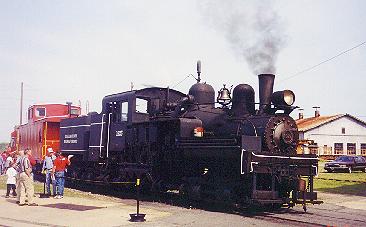 Here's a Shay steam engine at the NC Transportation Museum. They are unique in that the wheels are smaller and directly driven by gears. You don't have the typical side bar on the large wheels that most people think of when they think of steam engines. These type of engines were used in mountainous regions where the tracks made tighter turns.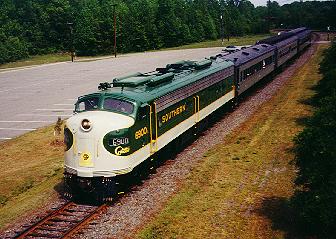 Here's an old Southern diesel engine at the NC Transportation Museum. When it comes to diesel engines, I just love the look of these sleek locomotives. The windshields remind me of eyes, and the headlight reminds me of a nose. When I use to draw trains as a kid, this is the style I would draw. I remember drawing one in a Christmas scene back in the 2nd grade.
---
Selma, NC trip
Selma is a small southern town near the center of Johnston county, North Carolina. It's populated with several antique shops and offers an excellent opportunity to do a day trip via train. In the early spring of 2006 we rode the Amtrak passenger train from Cary, NC to Selma. The one-way travel time is only about one hour. The train comes back through Selma in the late afternoon for the return trip, so you have plenty of time to visit the various shops and grab a bite to eat. Below are some images from our trip.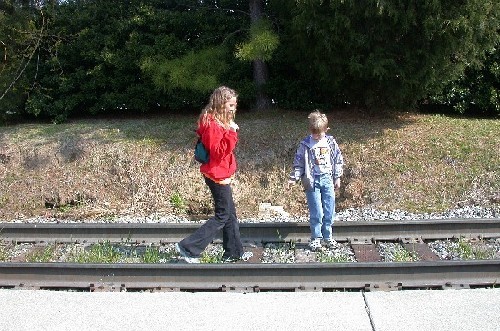 Victoria and Jonathan look for bits of coal along the tracks before the train arrives.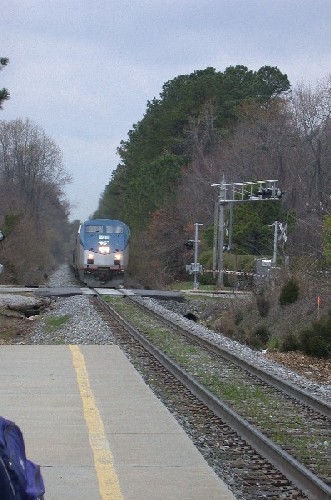 The east-bound Amtrak arrives to pick us up.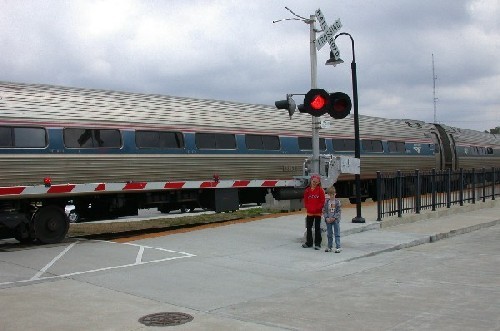 Waiting for the first train to depart Selma.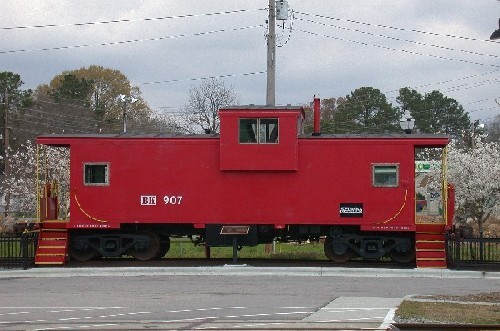 A caboose at the Selma station.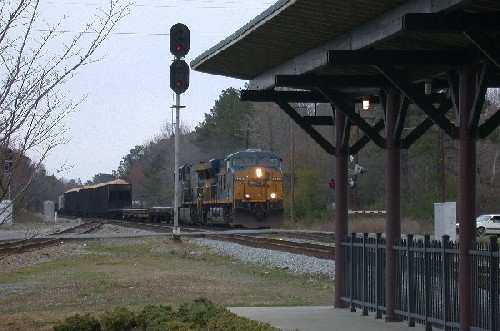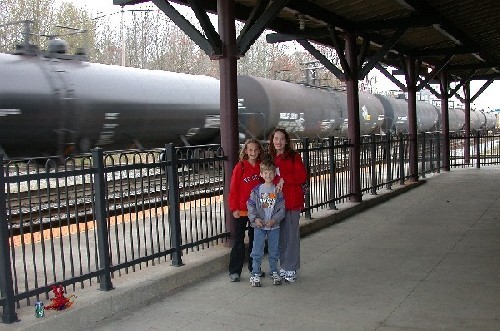 A passing CSX freight train in Selma. Victoria, Jonathan, and Lynn pose for the camera.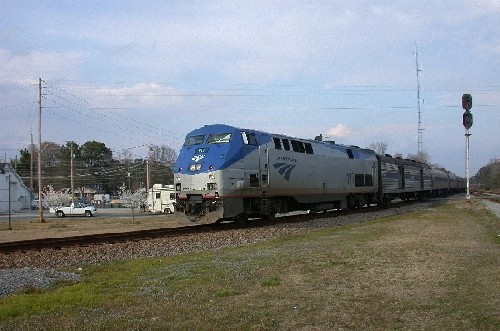 The train arrives in Selma to take us back to Cary.
---
Laurinburg and Southern
My first recollection of a train is of the Laurinburg and Southern Railroad, a short-line railroad that operated out of my own home town. I clearly remember seeing the locomotives going down the track, when I was about 4 or 5 years old. The day-care I went to was right beside the tracks. I remember playing outside and looking up with awe and wonderment every time a train went by.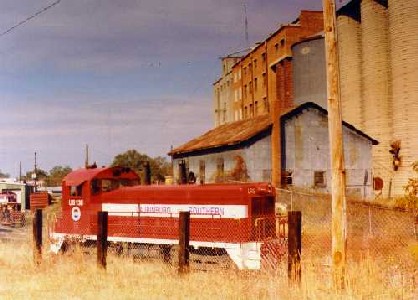 Here's a lonely, old Laurinburg and Southern engine I found one fall day, 1998. See the tall building in the background? It's also in a much older image show below.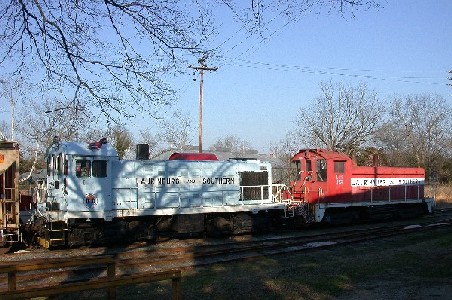 Here's a couple of more, one showing a different paint scheme.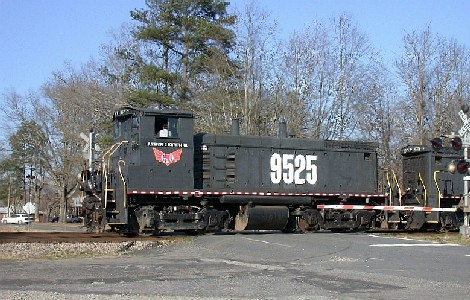 Here's the current paint scheme for the Laurinburg and Southern, which still operates, but under another company.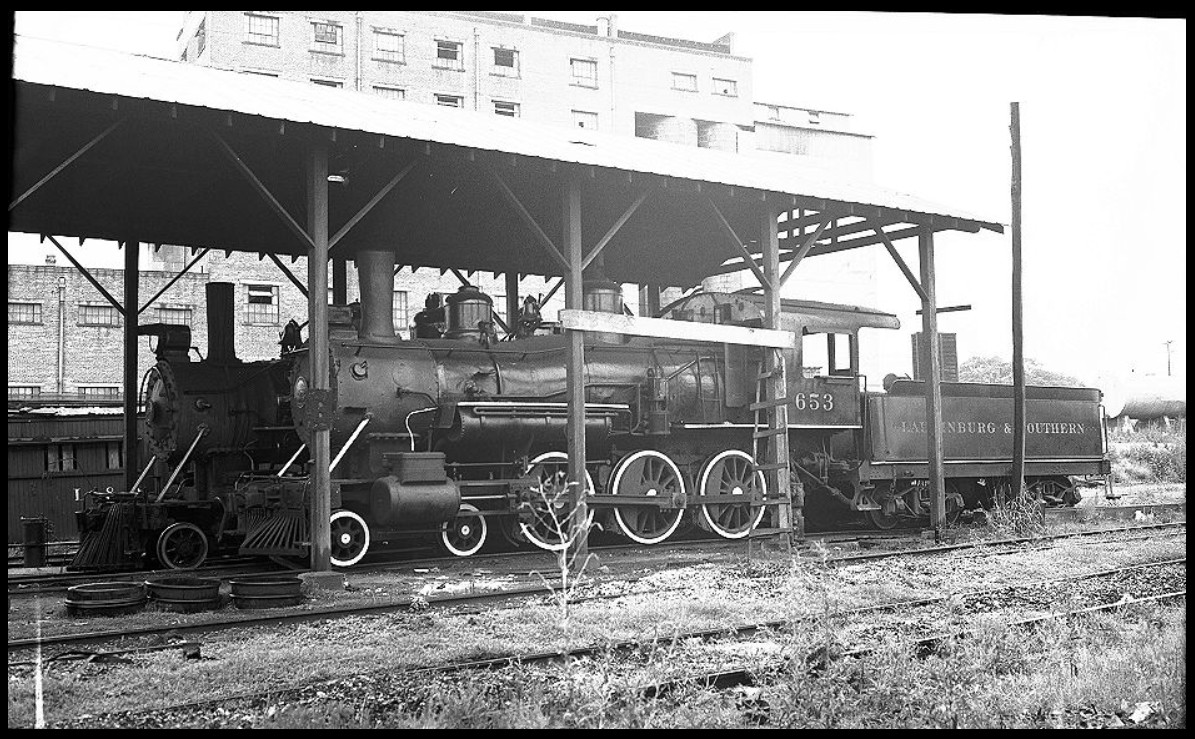 While looking about the Internet, I stumbled across this image of two Laurinburg & Southern Railroad engines, parked under a shed, from July of 1937. There's that old building in the background, that you also see in a newer image above. Just how old is that building?! My daughter and I recently visited the area (fall of 2015) and while the building is still there, it's seen better days for sure.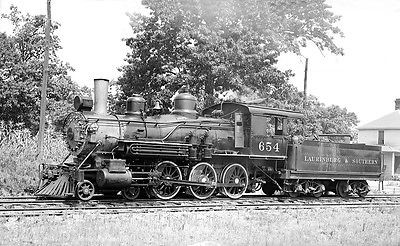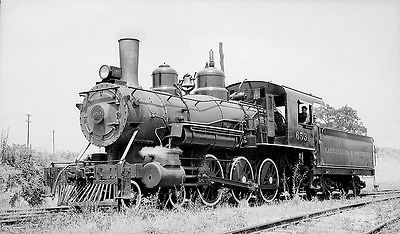 A couple of different views of engines 654 and 653 that I found on the Internet.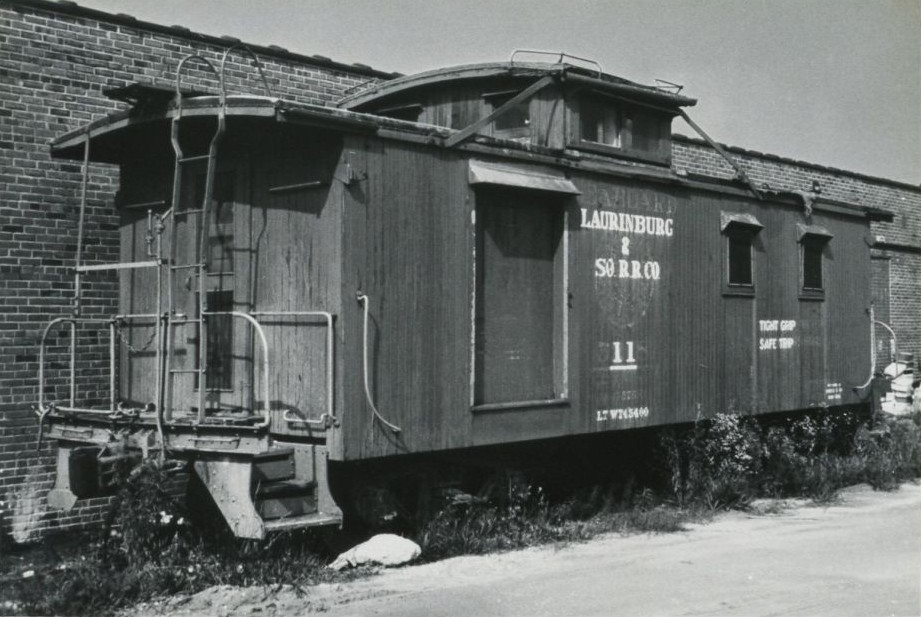 And old Laurinburg and Southern caboose image found on the Internet. The old markings showing through indicate it one belonged to the Seaboard Airline Railroad.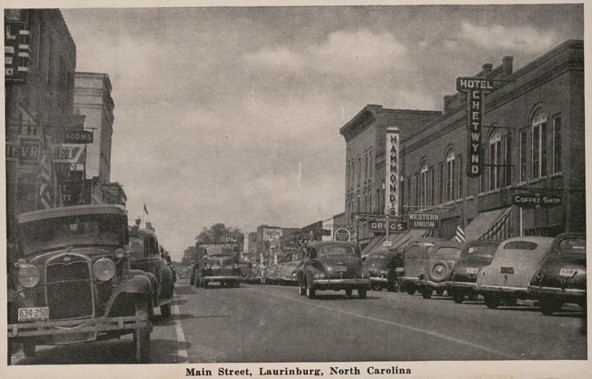 Not railroad related, but a view of Main Street, Laurinburg from long, long ago.
---
Miscellaneous Railroad Photos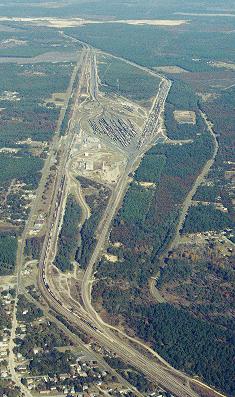 Here's an image of a railroad yard near Hamlet, NC. I should have used the zoom lens or flown a little closer for more detail. Also, when flying on the other side the sun was glinting off of the tracks which made them show up better. I may try to photograph this one again. Image taken on Nov. 7, 1999.
Hamlet, NC train depot. Built in 1900 to serve the Seaboard Airline Railway, this magnificent train station was recently been renovated and moved across the tracks to offer better access. Image taken on July 23, 2005.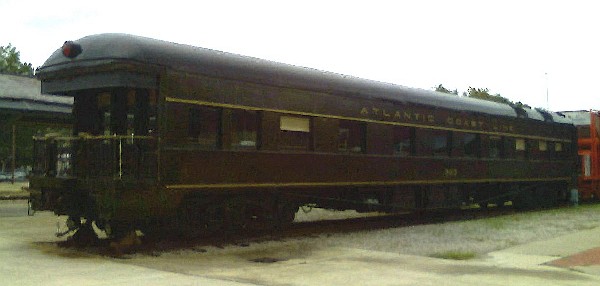 Old Atlantic Coast Line passenger car, at the Rocky Mount, NC train depot. Fall 2008.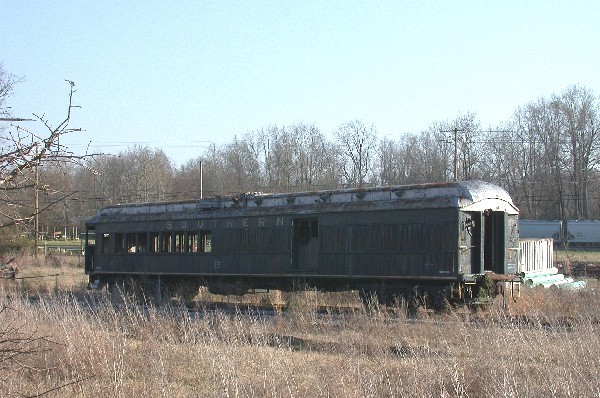 Old Southern passenger car, Laurinburg, NC. March 2004.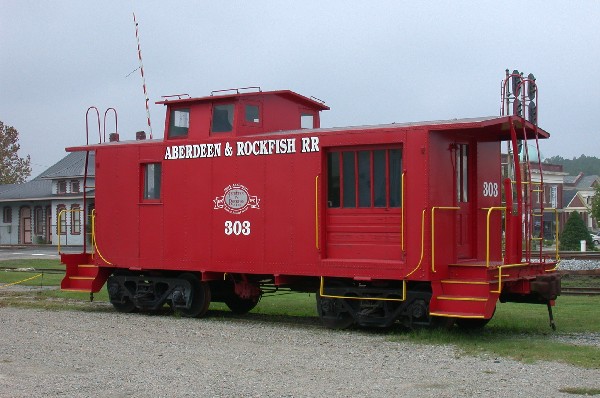 Aberdeen & Rockfish caboose, Aberdeen, NC.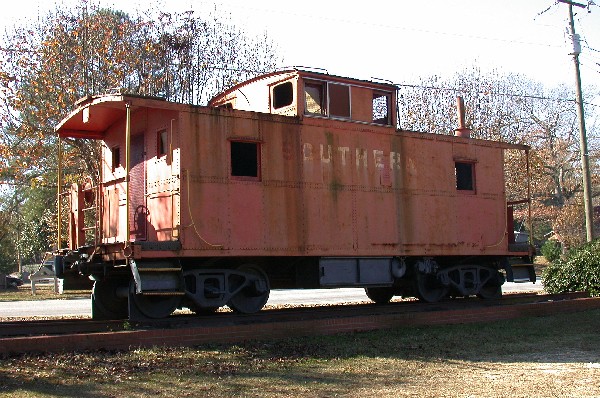 Southern caboose, Lillington, NC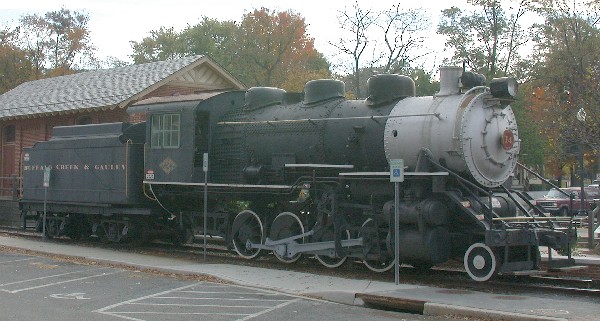 Buffalo Creek & Gauley steam engine on display, Gaithersburg, MD.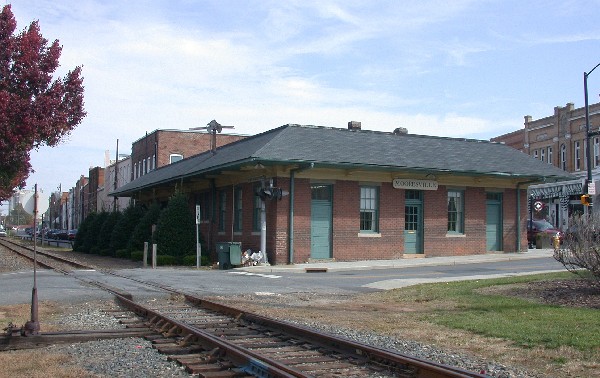 Mooresville, NC depot.
---
Other Railroad Related Pages On My Site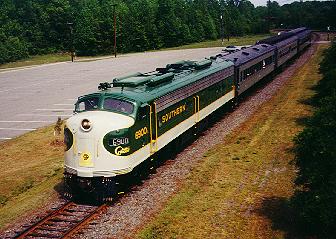 Trains/Railroad (current webpage)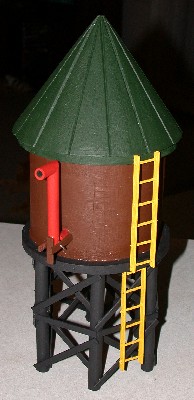 Model Trains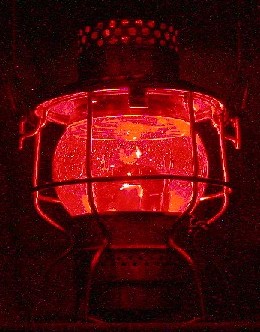 Railroad Lanterns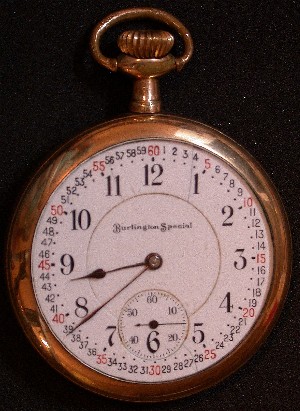 Pocket Watches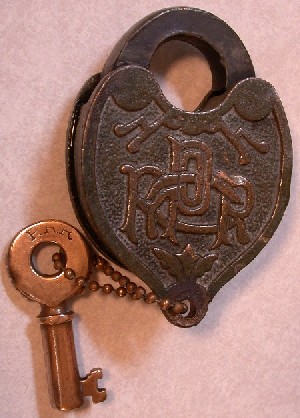 Railroad Locks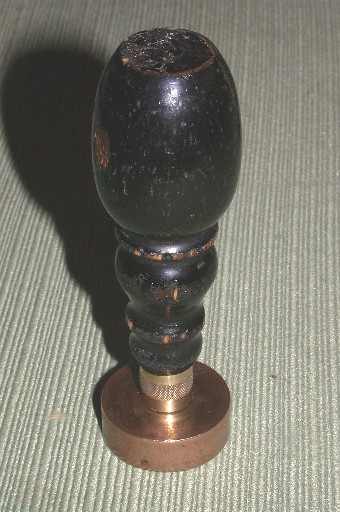 Wax sealers, telegraph, whistle, misc.
---
Train Resources and Information
North Carolina Transportation Museum 411 S. Salisbury Ave., Spencer, NC 28159. Phone: 704-636-2889. Neat museum with a lot of railroad items. You can ride the trains too, though it's only back and forth (not a loop).
Tweetsie Railroad 300 Tweetsie Railroad Lane, Blowing Rock, NC 28605. Phone: 800-526-5740. Old west train theme park. Pretty much an amusement park in the mountains, with a train running around the mountain. Very neat.
Wilmington Railroad Museum 505 Nutt Street, Wilmington, NC 28401. Phone: (910)763-2634. Nice collection of railroad items in historic Wilmington, NC.
Great Smoky Mountain Railroad 45 Mitchell Street, Bryson City, NC 28713. Phone: 800-872-4681. Dinner and adventure train. You can also combine it with local white water rafting.
New Hope Valley Railway 3900 Bonsal Rd. New Hill, NC 27562. Phone: (919) 362-5416. Small railroad museum that also offers train rides.
Golden Spike Enterprises Lists some of the bigger trains shows and events on the east coast.
The North Carolina Railroad Station Photo Page Photos of various train related buildings
http://www.railroadsignals.us Railroad Signals of the US. Great site with lots of images covering the various railroad signals used by modern American railroads.
http://mysite.du.edu/~jcalvert/railway/railhom.htm Railways: History, Signaling, Engineering. Another great site with tons of information on railroad signals.
http://www.railpictures.net Searchable images of trains.
---