JeffPo's Favorite Links Page
Last update: 01/15/18
These are links that I personally use or have found they offer good information in areas I have an interest in. I use them as shortcuts. While I appreciate suggestions of other sites to add, and don't want to discourage that, please realize that if I don't get personal value out of it myself, or think the issue is broad enough that I want to share with everyone, that I may not add it.
---
Wake County Government Real Estate Property Search property values, taxes, images, owners, etc.
Ounce * 28.349523125 = grams

Grams / 28.349523125 = ounces

DWT / 0.643014931373 = grams

Grams * 0.643014931373 = DWT

22K = 91.67%

18K = 75%

14K = 58.33%

10K = 41.67%

Sterling = 92.5%

07/24/17 prices:

Gold: $1255

Silver: $16.42

Platinum: $931
Email for home via Earthlink.net
Web Based Portal
Wake County Public School System
Home Search - Howard, Perry, and Walston
Snakes of North Carolina Snakes, turtles, and lizards of North Carolina. Has a step by step guide to identifying North Carolina snakes.
WTVD Channel 11 Eyewitness News
http://www.propertydo.com Free Landlord Information and Landlord Help
http://www.zillow.com Estimates for house values, rent amounts, etc.
https://www.tenantverification.com Tenant and renter screening service for landlords and property managers
---
Internet Service Provider (ISP) & Web Hosting Provider
Earthlink Internet service provider (ISP). Use for account maintenance.
Urchin Web traffic monitor for Earthlink.
HostMonster Web hosting login.
---
Cable Modems & Routers
---
Publishing Webpage for Yahoo and Google searches
https://siteexplorer.search.yahoo.com/submit
http://www.google.com/addurl/?continue=/addurl
---
Auctions/Estate Sales
http://www.auctionsip.com Site for finding auctions in your area.
http://www.estatesales.net Site for finding estate sales in your area.
http://www.collectorsweekly.com Site for finding stuff you're interested in on Ebay
---
Steve's Digicams For good reviews of digital cameras.
PriceWatch.Com To find the best price on electronic goods.
DealCatcher.Com Another place to find deals and good prices on electronic (and other) goods
Winfiles.com For various freeware and shareware programs for Windows.
North Carolina General Statutes Laws of North Carolina
---
People/Number Search
Anywho.com This site has reverse phone number lookup, which means you can match a particular phone number to a person.
Switchboard.com This one is pretty good for finding people.
Yahoo People Search For looking up people.
---
Guns/ Firearms/Hunting
Hunting/Fishing
http://www.ncwildlife.org North Carolina Wildlife Resources Commission (hunting license and regulations)
Gun Makers
http://www.smith-wesson.com Smith & Wesson.
http://www.taurususa.com Taurus.
http://www.berettausa.com Beretta
http://www.ruger.com Ruger
Auctions and Internet sellers
http://www.gunsamerica.com People and businesses selling new and used guns. So far I see better deals at my local gun shop.
http://www.gunbroker.com Gun sells via auction, like Ebay. Again, so far I see better deals at my local gun shop.
http://www.armslist.com Local private and commercial sellers. It's like a Craigslist for guns. Really neat. Great way to find a used gun locally. You can sell your own, or even post a wanted ad. You can also filter out the dealer listings.
http://www.budsgunshop.com Bud's Gun Shop. Pretty good retail prices listed. Shipping is included in the price. I use this website as a new gun price check.
http://www.brownells.com Brownells. Gun parts
http://www.midwayusa.com Midway USA. Gun parts. Prices seem pretty good. They seem to charge EXTRA "handling fees" on top of their shipping so watch out for that kind of stuff.
http://www.cdnninvestments.com CDNN Sports. Guns (new and used) and gun parts. Prices seem pretty good.
http://www.highnoonholsters.com High Noon Holsters. Great holsters at great prices. I highly recommend these guys. Great service and warranty too!
http://www.summitgunbroker.com Summit Gun Broker New and used guns, and magazines.
Local Stores and Gun Ranges
http://www.fuquaygun.com Fuquay Gun & Gold 1602 North Main Street, Fuquay Varina, NC (919) 552-4945. New store and location as of 2014. Owner: Clay. They have pretty decent prices. I've done business with them for several years and recommend them. Great customer service, and employees that know what they are talking about. This is my number one gun store. Tell Clay I sent you.
http://www.edsgunshop.com Ed's Gun Shop 5560 US Hwy 1, Vass, NC (910) 692-7936. Good selection and decent prices. Ed is a very nice guy. They have about everything you need, from guns, to parts, to ammo, to safes, to service. The store is very active in searching out inventory, so it's always changing, not stagnant like other stores. Ed lists the stuff he gets in on his forum webpage: http://www.edsgunshop.com/forum. He'll give you prices via forum posts or email, which is a plus given that's the way a lot of us communicate these days. Ammo prices are good, especially on some bulk sales. It's a neat store just to walk around in because it's well stocked and has various stuffed animals to look at. I recommend them.
http://drakelanding.net Drake Landing 3146 Chalybeate Springs Rd., Fuquay-Varina, NC (919) 552-9455. Farm like range with sporting clay shooting and an outdoor pistol pit ($20/hour). They also offer hunting packages.
http://kiddsplace.com Kidd's Place 8755 North Carolina 42, Holly Springs, NC (919) 552-7538. Just down the road (Hwy 42) from Fuquay Varina. Sporting clays and outdoor pistol range ($25/hour for non-member, which is a bit high). Target holders are motorized, so that's nice. I've never been, so can't really comment on quality and service.
http://sovereignguns.com Sovereign Guns. 111 North Main Street, Fuquay Varina, NC. (919) 557-3088. Prices seem okay. Their inventory doesn't seem to change as much, but it's another gun shop to compare. Not much if any parking available out front (on Main Street) but you can park behind the store. While it's a pretty open area, do be cautious and aware back there. I was once approached by someone begging for money for beer as I came out of the store.
http://www.pdhsc.com Personal Defense & Handgun Safety Center. 301 Tryon Road, Raleigh, NC. (919) 779-6880. Merchandise and has an indoor gun range. I've heard others say they have good prices, but I have never bought anything there so I can't comment. They've got a pretty nice indoor gun range with about 6 lanes. Price is $20/hour, and targets cost a $1.
http://jimsgunshopnc.com Jim's Gun Shop 609 Woodland Rd, Raleigh, NC (919) 772-0995. Don't confuse this one with Jim's Guns in Fayetteville. Totally different Jim! Runs out of a small building behind a residential house. Great prices on new and used guns. Not much inventory, but he can order whatever you want.
http://jimsgunwarehouse.com Jim's Gun Warehouse 4632 Yadkin Rd., Fayetteville, NC. (910)864-2270. THIS is the more widely known Jim's Guns, which is in Fayetteville. I've never bought anything from them, but I did shoot at the range once with a friend. Range seemed nice. HOWEVER, I've heard and read nothing but BAD reviews on these guys. Search and read the reviews yourself on the Internet. I must say, that once I was looking at some guns and they did pretty much ignore me, and when I was able to talk to someone, they weren't very knowledgeable. Sounds like a place to look a guns, and maybe use the range, but from what I've read it seems you'll find better prices and services elsewhere.
http://eagle1supply.com Eagle 1. 4410 Craftsman Drive, Raleigh, NC 27609 Phone: (919) 954-1032. Just listing this as a resource at this point because all I personally know about these guys is that they use women dressed in black and showing cleavage to get your attention at gun shows. While I don't mind pretty women showing cleavage, it's my personal opinion that it seems kind of a cheesy way to advertise a gun shop. They advertise supplies, training, and a gun range. From the description, the gun range sounds nice. They charge $15/hr. They also charge $10 for a safety test, which is back on the cheesy side again in my personal opinion, so I consider the jury to still be out on these guys.
http://www.wakegov.com/sheriff/services/firingrange/Pages/default.aspx Wake County Firearms Education & Training Center 3921 Old Holly Springs-Apex Road, Apex, NC. (919) 303-0851. Never been so I can't comment. You have to take an orientation class to get a range card to use this facility. Cost is $15 for the class/card, plus you get some coupons for money off of range fees. Range fees are $10/hour. These are Wake County resident fees, others pay slightly more.
UPDATE 07/21/11: I've had a chance to use the Wake County range and I've got two words for it...IT SUCKS! You would think such a well funded place would be better. First of all, it has little to no sound dampening. They have concrete floors and cinderblock walls. Not even counting the section used by law enforcement, there are three sections with about ten positions each (i.e. about 30 shooting locations). That's a LOT of shooters, so it's a lot of noise. And the ventilation is poor too. Lot of powder hanging in the air, at least around my area. There's also no climate control. It was hot and humid, and they even had an outside door propped open! So I was sweating like a pig, and that was mixing with powder and running into my eyes. The place also has very poor lighting. Not only is it hard to see the sights on your firearm, but you can't even see your target well enough to know if you're hitting it. On top of that, you have to manually place your target on a piece of cardboard held up by two pieces of wood. Seriously! A facility this large and well funded should have a cable/pulley system for remotely placing targets at the various shooting distances. I was VERY disappointed with the Wake County shooting range. The only positive for me is that it is relatively close by and relatively inexpensive. I'll try it again in the cooler months, but so far it's the worst range I've ever used.
http://www.perrysguns.com Perry's Gun Shop. 21 East Third St. Wendell, NC (919)365 4200. I've seen them selling on the online gun sites. I've also heard they have some good prices, but have never been there myself so I can't comment.
Big Sky Guns & Pawn 304 E Williams St, Apex, NC 919) 303-8555. Very, very small selection of guns. Some okay prices. A friend of mine has gotten some good deals there.
http://www.lawmens.com Lawmens. 3319 Anvil Place, Raleigh, NC. (919) 779-6141, (800) 426-3486. While they use to sell to everyone, I think they have changed their policy such that they only sell to law enforcement. Better call and check before you waste a trip.
http://www.younggunsinc.com Young Guns. 813 East Williams Street, Apex, NC. (919) 387-8393. Merchandise. Prices seem okay, but I haven't seen any deals. Inventory seems kind of small. In the past, there was one guy there that was kind of grumpy. Seems he would rather talk conspiracy theories with this friends than wait on a customer. However, my main beef with them is that they have an anti-gun sign on their door: NO LOADED FIREARMS. Do they support concealed carry laws or not?! Are they afraid of their own customers? I'll generally buy small items in there for convenience, but I'll keep buying bigger stuff elsewhere until they start supporting our conceal carry rights.
Mid South Guns 24461 N Main St, Wagram, NC (910) 369-2370. HUGE gun shop in the middle of nowhere! Wagram is just a slow down along Hwy 401 (just north of Laurinburg) so I'm surprised to see such a big gun store there. It's the biggest I've ever seen. It's way cool. Sadly, the prices I've seen are very inflated. Big fish in a small pond syndrome? I once inquired about buying a gun and they wouldn't come off the price a single dime. So I bought the same gun for much less somewhere else. Given their high prices, they are losing my business. But it's still a neat place to do some window shopping. Just remember that whatever you see there, you can probably find it cheaper at other gun stores. UPDATE: On my last visit to the store, the dude behind the counter actually said he could do a better deal than the advertised price. Maybe they are changing their ways.
Forums and other info
http://www.thetruthaboutguns.com I like their gun reviews. Their opinion articles can be a bit political though.
http://www.carolinashootersclub.com Carolina Shooters Forum Great website with discussions on everything guns, and some hunting. Has a classified ad section, a preppers section, etc.
http://gunssavelives.net Website dedicated to providing examples of guns being used in self-defense, etc.
http://www.smith-wessonforum.com Forum dedicated to the discussion of Smith & Wesson firearms. Great website for information and advice, on more than just Smith & Wesson products.
http://www.rugerforum.com/phpBB Forum dedicated to the discussion of Ruger firearms. Seems similar to the Smith & Wesson forum, though I haven't read this one as extensively yet.
http://www.gunblast.com An online gun magazine with great articles and reviews.
http://www.corneredcat.com The Cornered Cat. Website by a lady shooter. Great advice on everything gun related, from choosing a gun to how to shoot it. While created for women, the advice and information is universal.
http://www.edsgunshop.com/forum Ed's Gunshop Forum. This is where Ed lists his new arrivals for sale, and answers questions.
http://www.trapshooters.com/cfpages/threads.cfm Trap Shooters Forum.
http://www.sassnet.com Single Action Shooting Society. Cowboy action shooting.
http://www.curtrich.com Curt Rich's website. He's into Cowboy Action Shooing and has lots of good advice. Check out his article on getting started in Cowboy Shooting: http://www.curtrich.com/GettingStarted01.html
---
Aviation
Aircraft Owners and Pilots Association (AOPA) Lots of good info in here, such as NOTAMS, links, etc.
DUAT Services Weather briefings, Flight Planning, etc.
FlightBrief Weather for pilots
---
Lottery
---
Train Stuff
North Carolina Transportation Museum 411 S. Salisbury Ave., Spencer, NC 28159. Phone: 704-636-2889. Neat museum with a lot of railroad items. You can ride the trains too, though it's only back and forth (not a loop).
Tweetsie Railroad 300 Tweetsie Railroad Lane, Blowing Rock, NC 28605. Phone: 800-526-5740. Old west train theme park. Pretty much an amusement park in the mountains, with a train running around the mountain. Very neat.
Wilmington Railroad Museum 505 Nutt Street, Wilmington, NC 28401. Phone: (910)763-2634. Nice collection of railroad items in historic Wilmington, NC.
Great Smoky Mountain Railroad 45 Mitchell Street, Bryson City, NC 28713. Phone: 800-872-4681. Dinner and adventure train. You can also combine it with local white water rafting.
New Hope Valley Railway 3900 Bonsal Rd. New Hill, NC 27562. Phone: (919) 362-5416. Small railroad museum that also offers train rides.
North Raleigh Model Railroad Club
All-Gauge Model Railroading Page
Directory of World Wide Rail Sites
---
Camping/Parks
North Carolina Parks & Recreation
---
Car/Automobile Stuff
http://www.fueleconomy.gov Awesome website that lets you search and compare gas mileage between various cars.
Cycle Trader Motorcycles for sale
Edmunds.com New and used car prices.
N.A.D.A. New and used car prices. Boats and motorcycles too.
Kelley Blue Book New and used car prices, and motorcycles too.
North Carolina Division of Motor Vehicles (tags, license, registration)
North Carolina Department of Transportation
University Ford Chapel Hill
Darryl Burke Chevrolet-Pontiac-Buick
---
Motorcycle Stuff
Honda/Yamaha of Raleigh/Garner
Cycle Trader Motorcycles for sale
N.A.D.A. New and used car prices. Boats and motorcycles too.
Kelley Blue Book New and used car prices, and motorcycles too.
---
Boat Stuff
---
Creation vs. Evolution and other Bible stuff
Institute for Creation Research Pro-creation
The Talk.Origins Archive Pro-evolution
Biblical Errancy by Dennis McKinsey
http://biblehub.com Good website that compares versus across a wide variety of bible interpretations (i.e. King James Version versus New International, etc.)
---
Anti-god and anti-religion stuff
This site is called Why won't God heal amputees? It's a very interesting approach from an atheist point of view. I could see this site being used by believers and non-believers alike. The non-believers could use it to bolster their atheist views, while the believers could use it to hone their skills at taking on the atheists for having the gall to say God doesn't exist. The author has even created a forum for believers to relate how God has worked in their life.
The main website:
http://whywontgodhealamputees.com
The Executive Summary of the information:
http://whywontgodhealamputees.com/summary.htm
Start at Chapter One and work your way through:
http://www.whywontgodhealamputees.com/god1.htm
The videos. Don't want to read?...then just view these videos:
http://whywontgodhealamputees.com/all-videos.htm
---
Weather
---
GPS stuff
https://www.geocaching.com The wonderful world of geochaching, finding the little containers scattered all over the world.
http://gpstracklog.com/2011/10/garmin-etrex-20-review.html Good review of the Garmin Etrex 20 GPS
http://www.gpsfiledepot.com GPS File Depot. Free maps (and others) for your GPS.
---
Arrowhead information and identification
http://www.projectilepoints.net
http://www.jimmausartifacts.com
---
House Stuff
House Plans Last update: 11/29/12
House Progress Last update: 04/26/13
Window Blinds Last update: 07/02/14
---
Septic & Backhoe Service
Tommy Coley Backhoe Service: Septic Tank Installation & Repair
6572 Christian Light Road, Fuquay-Varina, NC 27526
Phone: (919) 552-6329 Cell: (919) 215-8141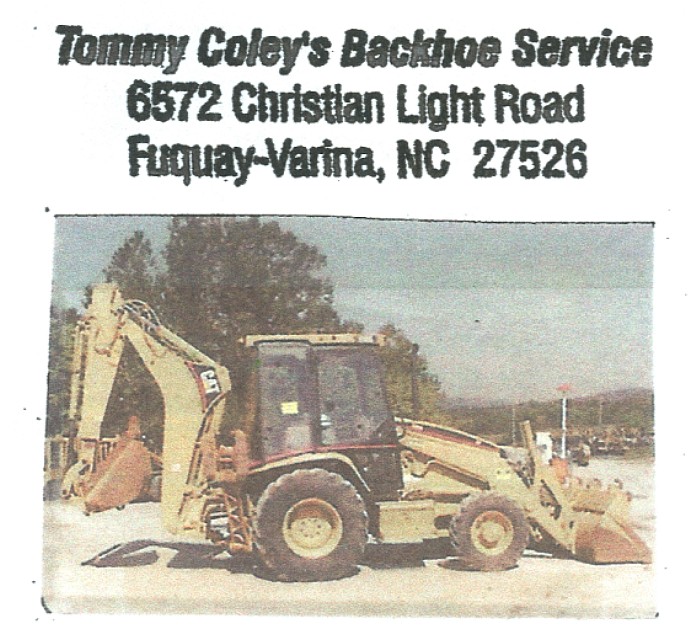 Tommy has done some work for me, my neighbor, and friends. He repaired our septic drain field and extended the lines. He's done grading in our yard to build up low areas. He added a pipe and extended our driveway. Tommy does great work for a great price. He does a good job without charging you an arm and a leg like some other companies do. I highly recommend him. If you need any kind of work done with regards to septic, excavating, driveway, grading, road building, drainage, etc., While he's out of the Fuquay-Varina and Holly Springs area, basically Southern Wake County, he also works in various other areas of Wake County and Harnett County, and probably anywhere else you need him. I suggest you give him a call to see what he can do for you.
---
Rhino Shelf
The Do-It-Yourself Garage Shelving System Designed for ANYONE to Install.
P.O. Box 2296, Angier, NC 27501
1-888-542-2683
Indoor display/sales at NC State Fairgrounds Fleamarket in Raleigh, NC.
Email: cs@rhinoshelf.com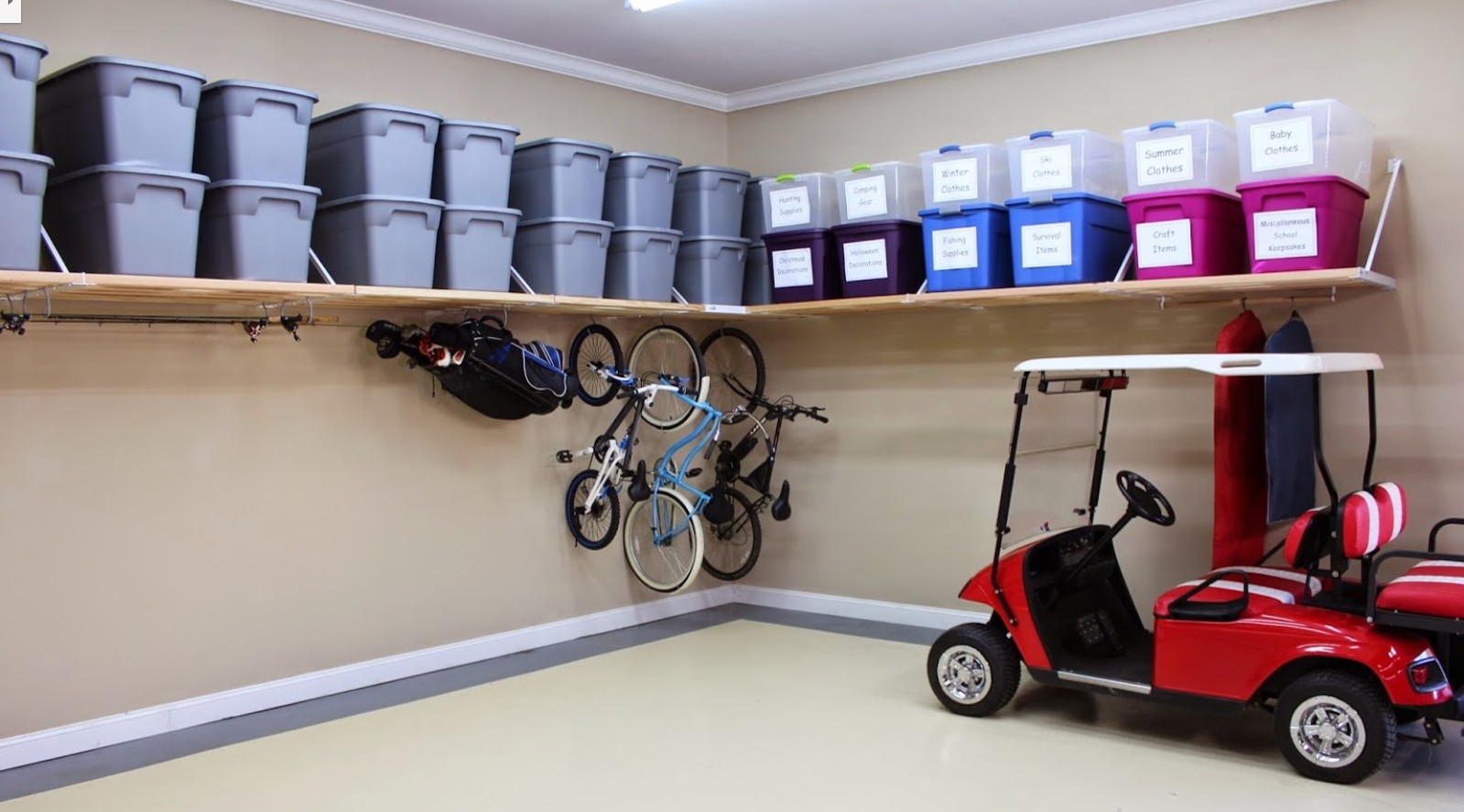 Rhino Shelf is a system of shelves that consist of angled brackets and 2x4 boards. It's integrated and modular such that you can make it as long as you want, and turn corners. It's extremely strong, able to support hundreds of pounds. A grown man can easily walk on them. They give a clean installed appearance, and because of the spacing between the boards, you still get plenty of light filtering through (i.e. not dark like solid shelves). You can also attach brackets and such underneath for anything you want to put there, like yard tools, bicycles, etc. The above picture is from the company website, but I have some installed across the back of my garage.
I've looked and researched and I couldn't find ANYTHING on the market to compare to these, either in storage size, weight support, ease of installation, and even cost. The only thing that even came close was some hang from the ceiling type shelves that were difficult to install, didn't hold as much, and not as cost efficient. I guess you could build your own with plywood and boards, but that would be heavy, more labor intensive, and still not be as strong. These are the way to go! You can install them yourself, or pay the company to install them.
The Rhino Shelf company is NUMBER ONE in service and product. Owner Don Hunter is about as honest and sincere as they come. He puts integrity ahead of company profit. I talked with him a very long time before I actually bought the product and I've never come across a business owner that I trust as much as him. Seriously! If you want to see what these shelves look like in person, swing by their indoor display/sales at NC State Fairgrounds Fleamarket in Raleigh, NC. Please tell them that Jeff sent you.
---